Welcome to midland online – Reliable/Secure/Fast
MDB Internet Banking – Banking Beyond the Branch
Banking at the branch is only the beginning. MDB midland online gives you a variety of services that should help you to use and manage banking needs through digital platform, any time.
Subscribe and Manage Your Money Online
Complete your midland online application form and submit to any branch or send the scan copy of the application to our email mdb.online@midlandbankbd.net. On successful processing of the application, you will receive a user Id and a temporary password to login to midland online and to enjoy digital platform of MDB from anywhere, anytime using any devices. Download Application Form (PDF)
Self-Registration
Prepaid and Credit Card Only
Midland bank introduces self-registration process to register your midland online using prepaid / credit card from home. Please visit Google play store / Apple store to find our mobile apps. Please read 
user guide
 to make your registration effortless.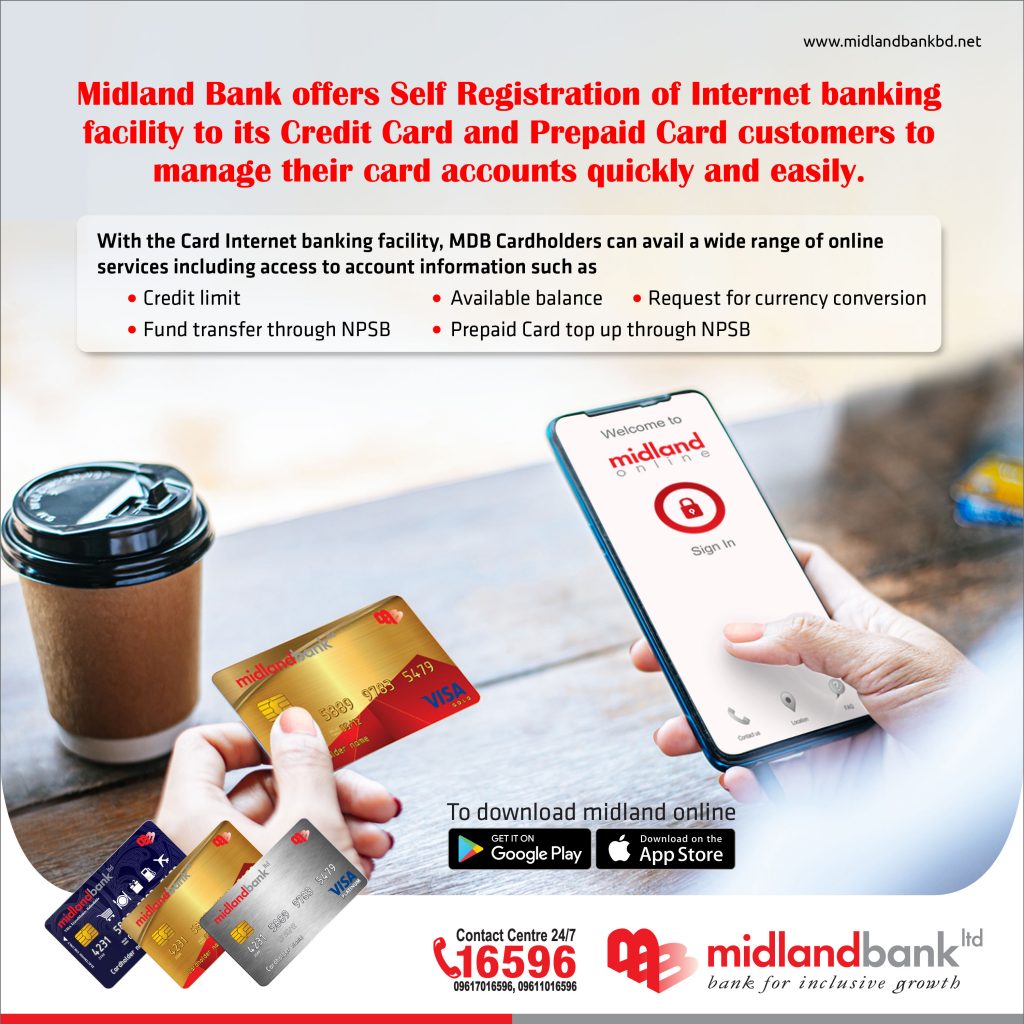 Biometric and PIN Based Login
Midland Bank introduces Biometric and PIN based authentication along with traditional username and password based process to provide a faster, more convenient, and secure mobile banking experience. Customers can now log on to midland online app using a PIN or biometric features like unique fingerprints or facial recognition from both android and iOS.
OTP Media
Change your OTP media from midland online, for details please click here
Current Features:
Real Time Account Statement:
View your account statement in real time including current balance
Fund Transfer:
Transfer funds between accounts within the bank
BEFTN Fund Transfer:
Inter-Bank Fund Transfer through  BEFTN
NPSB Fund Transfer:
Inter-Bank Fund Transfer through  NPSB
bKash Fund Transfer:
Fund Transfer to bKash wallet
Rocket Fund Transfer:
Send and receive money between Rocket wallet and Midland Bank account
Nagad Fund Transfer:
Fund Transfer to Nagad wallet
Upay Fund Transfer:
Fund Transfer to Upay wallet
Cheque Book Requisition:
Place a request for a Cheque book
Mobile Top-up:
Top-up your mobile balance from anywhere and anytime
Pay Credit Card Bill:
Pay Utility Bills:
We are collecting utility bills.
Password Reset:
Change your Internet Banking Password whenever needed