DESCRIPTION
Types of Credit Card:
Midland Bank Ltd. is offering 2 types of Visa Credit Card for the customers:
Visa Gold Dual – Local & Global use
Visa Platinum Dual – Local & Global use
Limit Range:
Visa Gold Dual – Tk. 20,000 to Tk. 99,000
Visa Platinum Dual – Tk. 1,00,000 to Tk. 5,00,000
International usages of card will be offered with the request of customers against his/her
Personal yearly Travel Quota,
Balances held in RFCD account
100% lien in the ERQ account.
Apply Eligibility:
| Title | | Details |
| --- | --- | --- |
| Nationality | : | Bangladeshi |
| Age | : | 18 years to 60 years, age bar can be relaxed for secured cards |
| Minimum Gross Income | : | Salaried Person- Tk. 20,000 Business Person- Tk. 50,000 |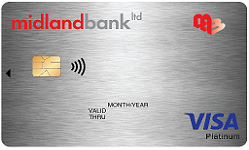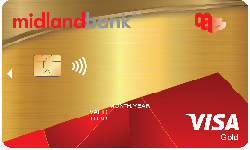 Required Documents:
1. Common Documents
Completed application form, NID copy/ valid passport, e-TIN related document, color photograph, bank statement for last 6 months.
2. Additional Documents
For salaried executives: Pay Slip/ Salary Certificate not more than one month old, business card, copy of employee ID(if available)
For Sole proprietorship: Valid trade license, one undated cheque, bank statement of sole-proprietorship account, business card (if available)
For partnership: Valid trade license, partnership deed, business account bank account, business card (if available), one undated cheque.
For limited company: Certificate of incorporation, memorandum of Association, business account bank statement, business card (if available)
For landlord: Property of ownership documents, rental agreement paper
For Doctors/Engineers/Other professional: Professional certificate, business card (if available)
For lien against deposit account: Letter of lien and set-off over deposit account, fund holding instruction, FDR receipt/RFCD advice, authorization of encashment of securities
Lien against ERQ (other bank): Letter of lien and set-off over fund from ERQ account, board resolution
* Please note that, contact point verification (CPV) and know your customer (KYC) are mandatory in all cases.

Features and Benefits
The MDB credit card can be used for all your requirements, be it shopping, dining out, holidaying, and fuelling up your vehicle, railway ticket reservations – just about any financial requirement, planned or on desire.
MDB credit card offers 45-days maximum interest FREE period. No matter what your previous month balance was. Every retail transaction is considered for interest FREE period of maximum 45-days and minimum 15-days.
 MDB Dual cards come with a unique offer where you do not need to pay the annual fee if you make 15 transactions or used BDT.50,000/- from (ATM/POS) in a calendar year.
Simply tap the card at designated contactless payment terminals to complete the transactions.
Free supplementary card – Enhanced power to your family:
You can now conveniently take care of the needs of your loved ones. Your MDB card now lets you apply for add-on cards for your spouse, parents, and children above the age of 18. The supplementary cardholder can also enjoy the benefits against his/her limit.
Widely accepted at Merchant establishments & ATMs worldwide:
Enjoy convenience and easy access to cash withdrawal at all ATMs displaying VISA logo worldwide, and at all merchant establishments including groceries, hotels, restaurants, airline & travel agents, hospitals and diagnosis centres, jewelry shops, electronics & computer shops, fashion & Lifestyle stores and what not!
Revolving Credit Facility:
You can choose to pay minimum amount due as shown in the monthly statement and revolve the balance amount to next month's billing cycle.
You can use the account payee card cheque against your MDB credit card for payment to any person or establishment within Bangladesh. Card cheque is especially useful to you where credit card acceptance facility is not available (e.g. – House rent, tuition fees etc.). The first cheque book is FREE and is bundled in your welcome pack.
MDB card alerts enable you to receive information regarding your credit card status, as an SMS on your mobile phone. With SMS you can also find out your credit card's statement balance, minimum due amount, payment due date simply by using your mobile phone anytime. Whenever you use MDB credit card, system generated SMS will reach in your mobile phone, and you can be assured of knowing any transaction that happened in your card.
As a primary cardholder, you can give a supplementary card to your loved one; you can also set spending limits for each of your supplementary cards in a billing cycle.
With us, money spent is money earned. For every Tk. 50 you spend, you earn 1 reward point. You can redeem these accumulated points for exciting offer our exclusive reward program.
No postal delays. No lost statements. No late payments. Just the convenience of getting your monthly statement delivered directly to your email inbox. Why not go for e-statement and be a part of green initiative!
As a member of VISA, MDB cardholders will enjoy discount at selected outlets in the town time to time, and experience the pleasure of dining out and shopping with your VISA credit card.
0% Interest on EasyPay Program:
With MDB credit cards EasyPay program, you can make your dream purchases at our EasyPay partner outlets, and pay at your own pace with installments spread up to 24 months.
In case your credit card gets lost, report it immediately to our 24-hour card service Contact Centre. After you do this, you carry limited liability on any fraudulent transactions on your card.
You can withdraw cash up to 50% of your credit limit from any of our branches or ATMs across the country. So, forget carrying cash while if you have a MDB credit card in your pocket.
Auto Debit-No worries of depositing payment timely:
If you have an account with any Midland Bank branch, you have the option of making payment of your monthly credit card statement (either the minimum due or the total amount due) directly through your bank account.
If you have credit card(s) from other banks, you have the option to transfer your current outstanding balance at a much lower interest rate to your MDB credit card. This saves you money and time, allowing you to conveniently manage all your expense from one card account. The balance transfer interest rate is 20% per annum.
Instant Balance Transfer:
You can transfer money instantly from your credit card (Card to A/C) through MDB online.
You can pay your credit card bill through MDB online.
Guaranteed peace of mind:
Your sense of security is our priority. MDB card automatically gives you complete peace of mind with our MDB Contact Centre. Our Contact Centre is accessible in 24 hours a day, 7 days a week, from anywhere in the world, which is designed to provide you one stop solution for your card service's needs. For any enquiry, simply call at (+88) 01977776325 (10AM to 6PM) or, Hotline 16596
How to apply
Collect credit card application from any MDB Branches/ Web site.
Please fill up the form with required information and put your sign where required.
Please attach the required documents
Please send the credit card application form along with required documents to card division
For any enquiry, please contact
Card Division
Zahed Plaza (10th floor),
30, Gulshan Avenue North C/A, Gulshan-2, Dhaka-1212
Mobile: +88 01977776325 (10:00 AM to 6:00 PM)
Hotline:

16596