Agent Banking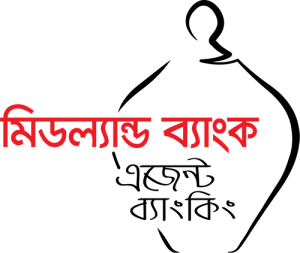 Midland Bank Ltd (MDB) envisages for inclusive growth encompassing all segments/ sectors of the economy, all strata of the population and geographical locations to foster balanced growth and distribute economic prosperity covering the entire country and as well as harness our business opportunity from the areas that was not previously served by the modern banking system. To achieve this vision, we set up 50% of our branches in the rural areas and also structured a good number of business products to serve the unbanked population. However, considering the fact that it is impossible for any Bank to cover a significant portion of the vast rural areas with banking business/branches/services centers. To address the situation, MDB launched Agent Banking service on 23 January 2017.
Considering the sensitivity and to ensure the safety, security and compliance in serving the unserved, a portion of these are illiterate segment, some prolific measures have been undertaken to safeguard the interest of customers, agents and Bank.Integration of Bio-metric authentication, SMS alert against each transaction, printed receipt in Bangla and awareness through visual materials in Agent Banking Centres are some examples of this safety and security endeavor.
We also envisage to extent lending, through our well structured products designed to serve, hitherto the unbanked population and also to deliver Agri crop lending through our agent banking network to achieve our cherish goal of inclusive growth.
More About Agent Banking
Agent Banking Contact
To know detail, feel free to call us.