Current Promotions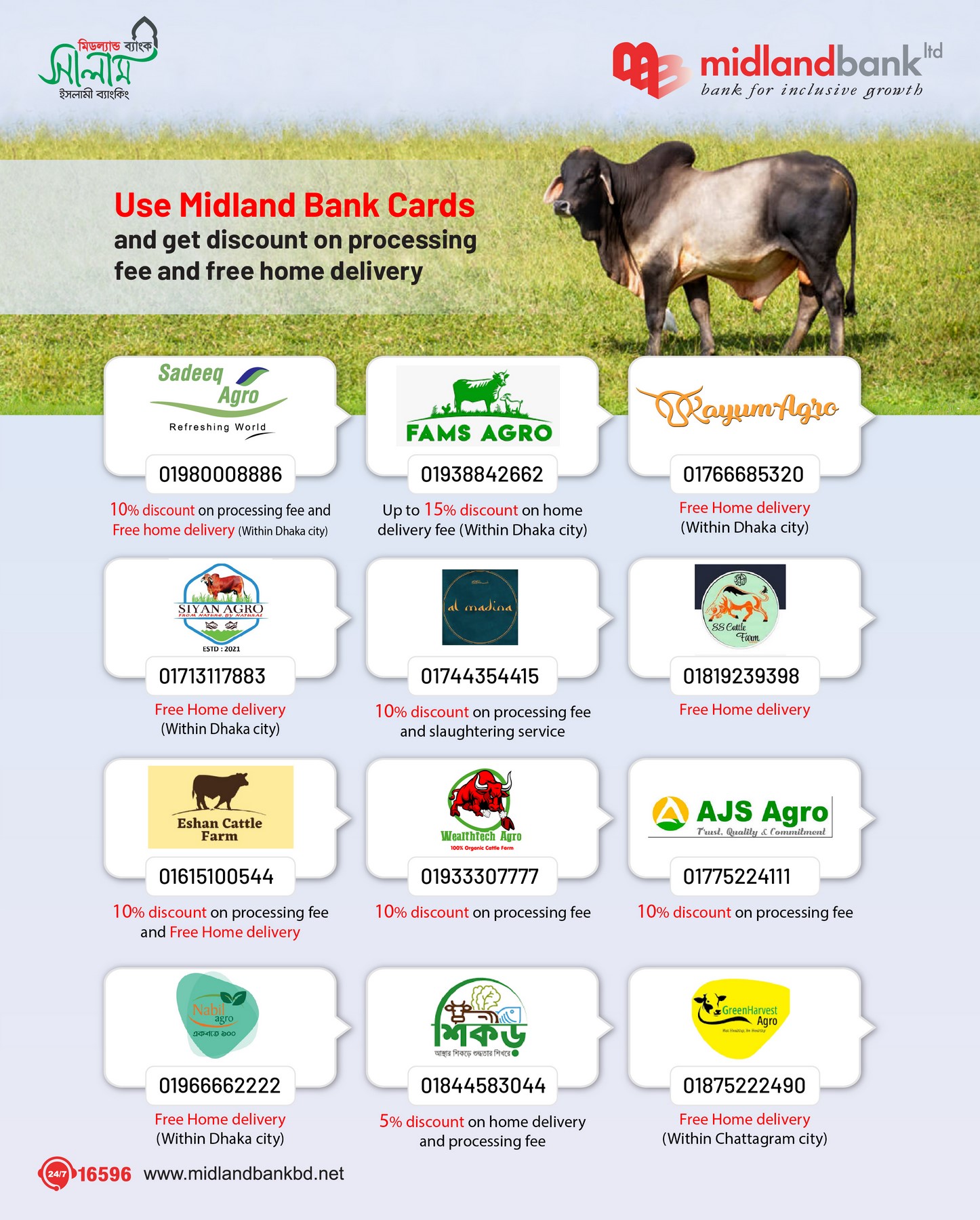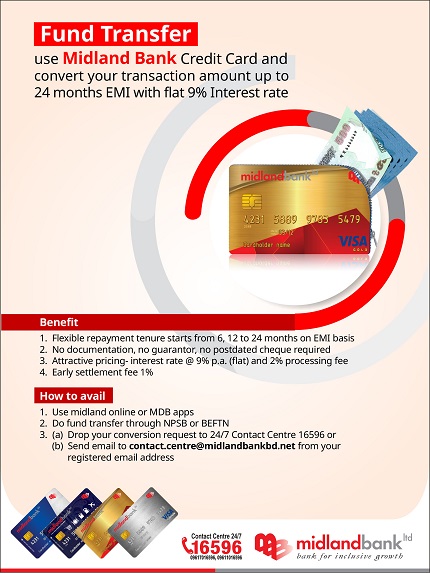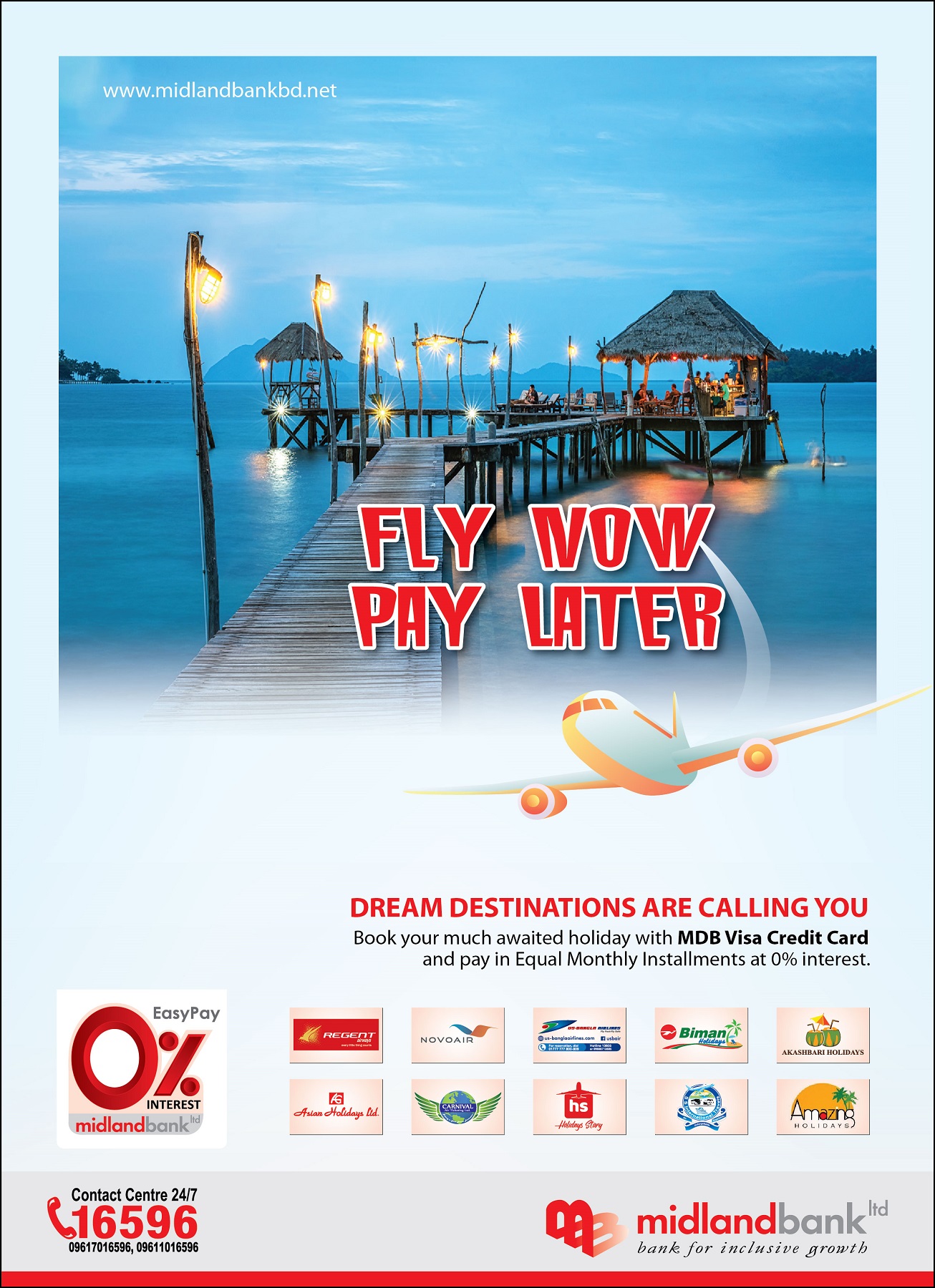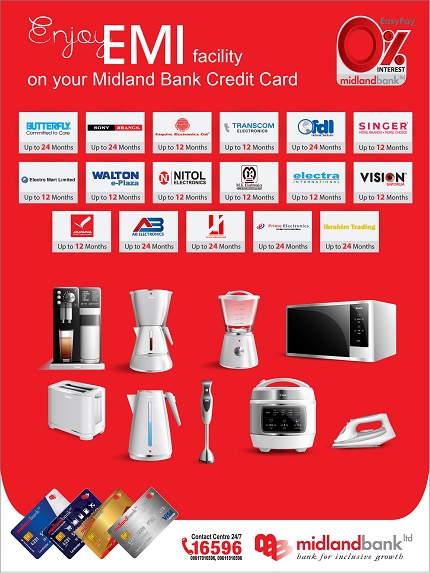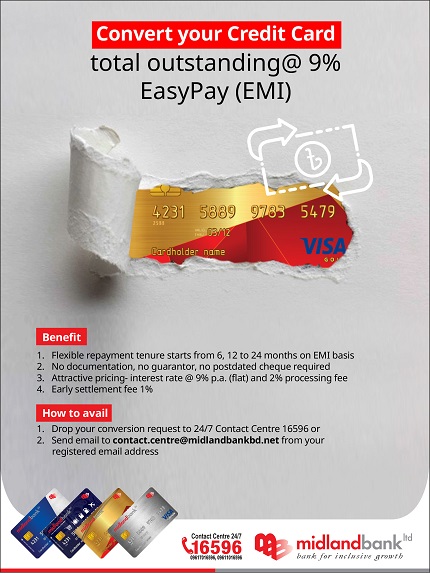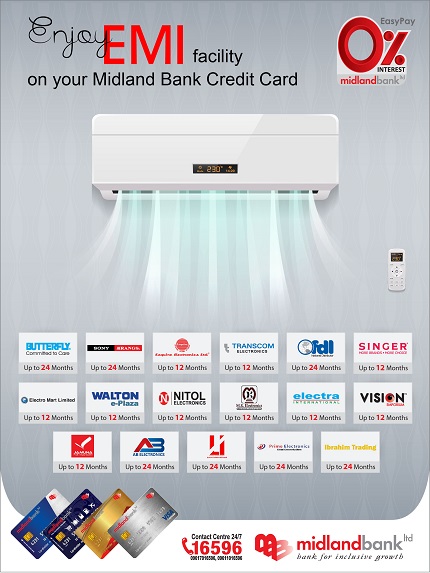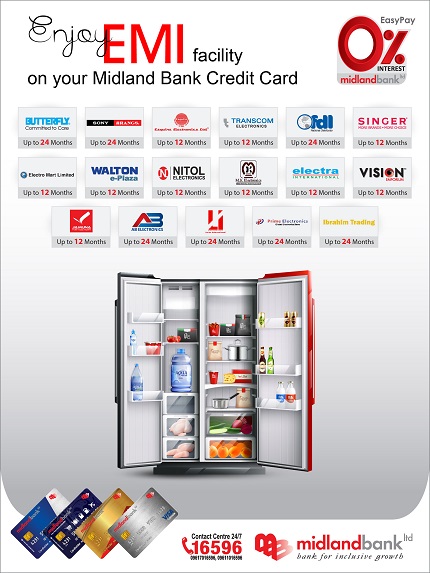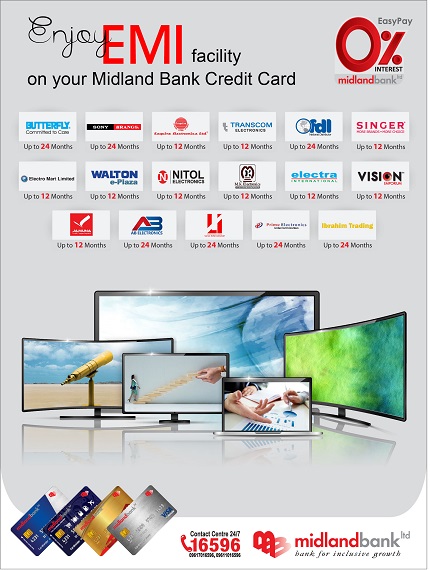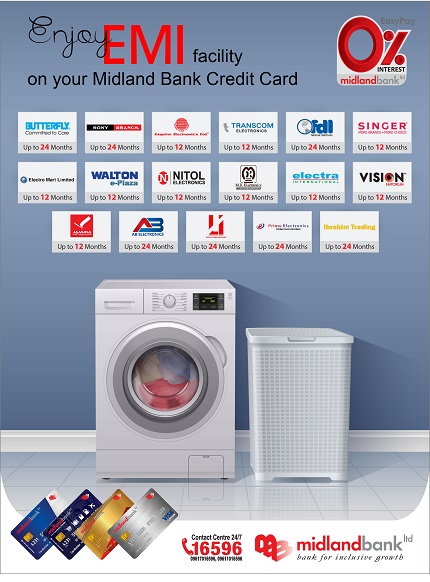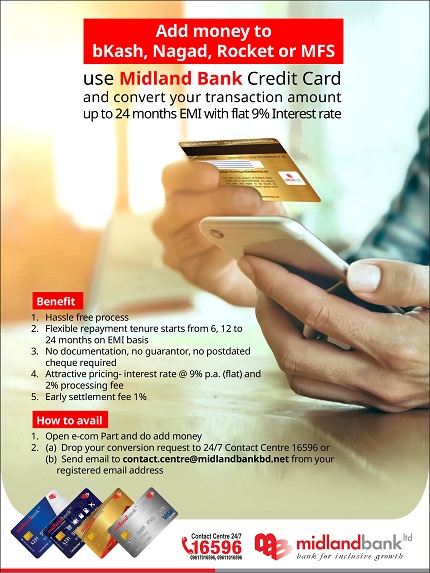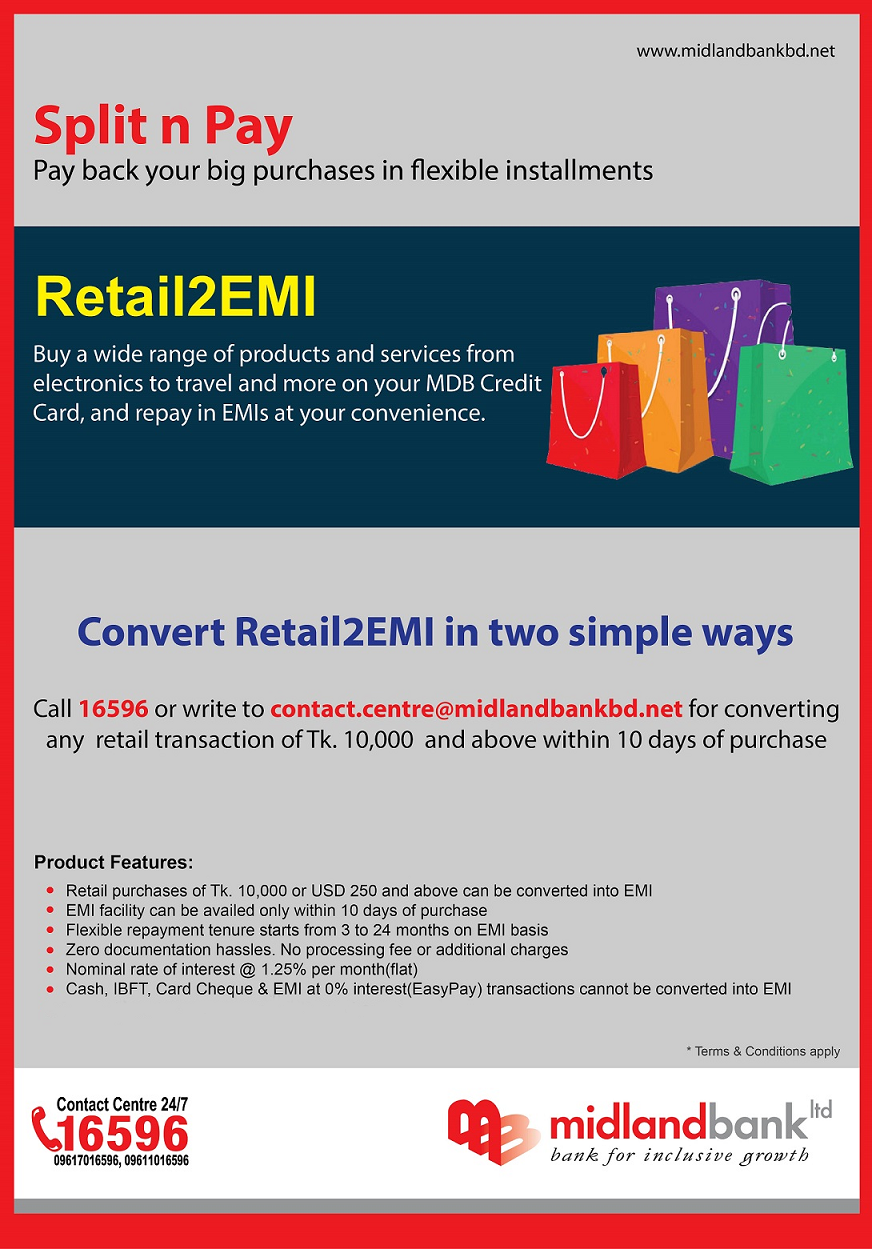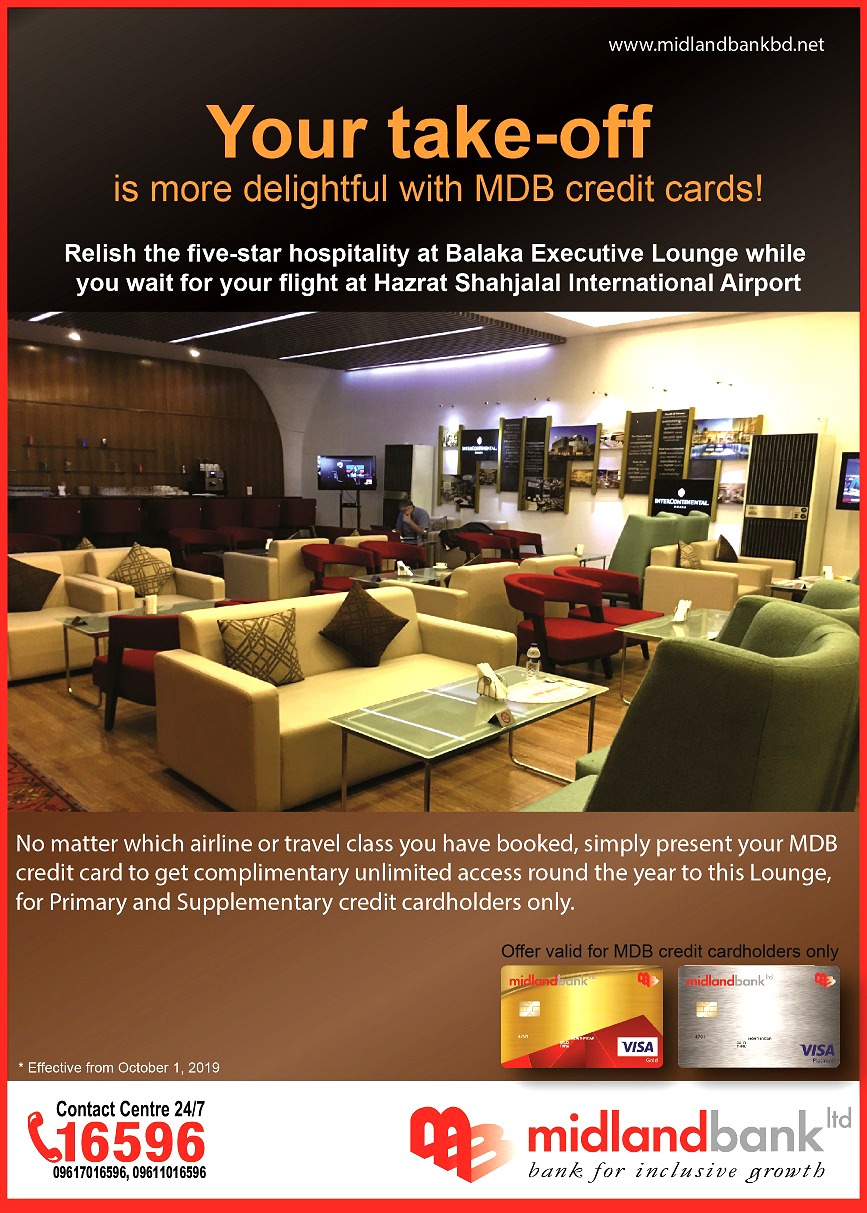 EMI at 0% Interest Offer
Merchants Name
Partner Type
Merchant Category
Merchant Address
Offer Details
Tenure
Durable Plastic Ltd - Durranto (Pran-Rfl-Group)
EMI at 0%
Bi-Cycle & Bike
Pran-RFL Centre, 105 Middle Badda, Dhaka 1212
Minimum Transaction amount must be Tk. 5,000/- and above
3 Months
6 Months
9 Months
12 Months
Runner Automobiles Ltd
EMI at 0%
Bi-Cycle & Bike
138/1, Tejgaon industrial Area, Dhaka-1208
Minimum Transaction amount must be Tk. 10,000/- and above
3 Months
6 Months
9 Months
12 Months
Nitol Marketing Company
EMI at 0%
Bi-Cycle & Bike
R.C. Tower, 17 Mohakhali, Dhaka-1212
Minimum Transaction amount must be Tk. 10,000/- and above
3 Months
6 Months
9 Months
12 Months
Nits Service Ltd (Sister concern of Nitol Niloy Group)
EMI at 0%
Bi-Cycle & Bike
Nitol Niloy Centre (12th Floor), 71 Mohakhali C/A, Dhaka-1212
Minimum Transaction amount must be Tk. 10,000/- and above
3 Months
6 Months
Pickaboo.com
EMI at 0%
e-Commerce Shop
Flat B-5, Plot-06, Block-SW(H), Bir Uttam Mir Shawkat Sarak, Gulshan-1, Dhaka-1212
Minimum Transaction amount must be Tk. 5,000/- and above
3 Months
6 Months
9 Months
12 Months
Daraz.com
EMI at 0%
e-Commerce Shop
Green Grandeur (8th Floor), 58/E, Kamal Ataturk Avenue, Banani, Dhaka-1213
Minimum Transaction amount must be Tk. 10,000/- and above
3 Months
6 Months
9 Months
12 Months
Othoba.com (Desh Logistics Co. Ltd.)
EMI at 0%
e-Commerce Shop
Hossain Market (Level-9), Cha-74, Pragati Sarani, Bir Uttam Rafiqul Islam Avenue, Dhaka-1212
Minimum Transaction amount must be Tk. 5,000/- and above
3 Months
6 Months
9 Months
12 Months
SSL Wireless
EMI at 0%
e-Commerce Shop
93B, New Eskaton Road, Dhaka-1000
Minimum Transaction amount must be Tk. 5,000/- and above
3 Months
6 Months
9 Months
12 Months
18 Months
24 Months
Durable Plastic Ltd -Vision (Pran-Rfl-Group)
EMI at 0%
Electronics
Pran-RFL Centre, 105 Middle Badda, Dhaka 1212
Minimum Transaction amount must be Tk. 5,000/- and above
3 Months
6 Months
9 Months
12 Months
Transcom Electronics Ltd
EMI at 0%
Electronics
Sadar Road, Mohakhali, Dhaka-1206
Minimum Transaction amount must be Tk. 5,000/- and above
3 Months
6 Months
9 Months
12 Months
Esquire Electrinics Ltd
EMI at 0%
Electronics
Ideal Trade Centre (10th Floor), 102, shaheed Ahmed Sarani, Tejgaon-I/A, Dhaka-1208
Minimum Transaction amount must be Tk. 10,000/- and above
3 Months
6 Months
9 Months
12 Months
Fair Distribution Ltd
EMI at 0%
Electronics
Khawaja Palace, House-76/B (2nd & 3rd Floor), Road-11, Banani, Dhaka-1213
Minimum Transaction amount must be Tk. 10,000/- and above
3 Months
6 Months
9 Months
12 Months
18 Months
24 Months
Singer Bangladesh Ltd
EMI at 0%
Electronics
House-5B, Road-126, Gulshan-1, Dhaka-1212
Minimum Transaction amount must be Tk. 10,000/- and above
3 Months
6 Months
9 Months
12 Months
Electro Mart Ltd
EMI at 0%
Electronics
N.S.C. Tower, Level-5, 62/3 Purana Paltan, Dhaka
Minimum Transaction amount must be Tk. 5,000/- and above
3 Months
6 Months
9 Months
12 Months
Rahimafrooz Distribution Ltd
EMI at 0%
Electronics
Globe Chamber, 104 Motijheel Road, Dhaka-1000
Minimum Transaction amount must be Tk. 5,000/- and above
3 Months
6 Months
9 Months
12 Months
M.K. Electronics
EMI at 0%
Electronics
6 D.I.T Avenue, Motijheel C/A, Dhaka-1000
Minimum Transaction amount must be Tk. 5,000/- and above
3 Months
6 Months
9 Months
12 Months
Rangs Electronics Ltd ( Sony )
EMI at 0%
Electronics
12, Sonargaon Road, Sonartori Tower, Dhaka-1000
Minimum Transaction amount must be Tk. 5,000/- and above
3 Months
6 Months
9 Months
12 Months
18 Months
24 Months
AB Group of Companies(Electronics)
EMI at 0%
Electronics
46/1, Sobhan Mansion, (7th Floor), Purana Paltan, Dhaka-1000
Minimum Transaction amount must be Tk. 5,000/- and above
3 Months
6 Months
9 Months
12 Months
18 Months
24 Months
Butterfly Marketing Ltd
EMI at 0%
Electronics
City Centre, 91/1 Motijheel C/A, Dhaka-1000
Minimum Transaction amount must be Tk. 5,000/- and above
3 Months
6 Months
9 Months
12 Months
Electra International
EMI at 0%
Electronics
Tropical Molla Tower (6th Floor), 15/1-15/4, Progoti Sharoni, Middle Badda, Dhaka-1212
Minimum Transaction amount must be Tk. 5,000/- and above
3 Months
6 Months
9 Months
12 Months
Walton Plaza
EMI at 0%
Electronics
Walton Plaza, Block-1, Plot-1088, Road-Sabrina Sobhan, 5th Avenue, Basundhara, Vatara, Dhaka-1229
Minimum Transaction amount must be Tk. 10,000/- and above
3 Months
6 Months
9 Months
12 Months
Gitanjali Jewellers
EMI at 0%
Fashion & Life Style
Shop-21, 2nd Floor, Gulshan Pink City, Gulshan-2, Dhaka-1212
Minimum Transaction amount must be Tk. 5,000/- and above
3 Months
6 Months
9 Months
12 Months
18 Months
24 Months
Durable Plastic Ltd -Regal (Pran-Rfl-Group)
EMI at 0%
Furniture
Pran-RFL Centre, 105 Middle Badda, Dhaka 1212
Minimum Transaction amount must be Tk. 5,000/- and above
3 Months
6 Months
9 Months
12 Months
Navana Furniture Ltd
EMI at 0%
Furniture
House-16/B, Road-93, Gulshan-2, Dhaka
Minimum Transaction amount must be Tk. 5,000/- and above
3 Months
6 Months
9 Months
12 Months
Hatil Complex Ltd
EMI at 0%
Furniture
8 Shewrapara, Rokeya Sharani, Mirpur, Dhaka-1216
Minimum Transaction amount must be Tk. 10,000/- and above
6 Months
9 Months
Partex furniture
EMI at 0%
Furniture
Shanta Western Tower, Level-13, Bir Uttam Mir Shawkat Road,186 Tejgaon I/A, Dhaka-1208
Minimum Transaction amount must be Tk. 10,000/- and above
3 Months
6 Months
9 Months
12 Months
Nadia Furniture Ltd
EMI at 0%
Furniture
62 East Hazipara, DIT Road, Malibagh, Dhaka-1219
Minimum Transaction amount must be Tk. 15,000/- and above
3 Months
6 Months
9 Months
12 Months
Asgar Ali Hospital
EMI at 0%
Health Care & Beauty
111/1/A, Distillery Road, Gandaria, Dhaka-1204
Minimum Transaction amount must be Tk. 10,000/- and above
3 Months
6 Months
9 Months
12 Months
AFC Health Ltd
EMI at 0%
Health Care & Beauty
Business Suite-1101/A (11th Floor), Rahmans Regnum center, 191/1, Tejgaon-Gulshan Link Road, Tejgaon C/A, Dhaka-1208
Minimum Transaction amount must be Tk. 10,000/- and above
3 Months
6 Months
9 Months
12 Months
BRB Hospital Ltd
EMI at 0%
Health Care & Beauty
77/A, East Rajabazar, Weat Panthapath, Dhaka-1215
Minimum Transaction amount must be Tk. 10,000/- and above
3 Months
6 Months
9 Months
12 Months
Banglalink Digital Communications Limited
EMI at 0%
Mobile Shop
Tiger's Den, House-4 (SW), Bir Uttam Mir Shawkat Sharak, Dhaka-1212
Minimum Transaction amount must be Tk. 5,000/- and above
3 Months
6 Months
9 Months
12 Months
18 Months
24 Months
Transcom Mobile Ltd
EMI at 0%
Mobile Shop
Sadar Road, Mohakhali, Dhaka-1206
Minimum Transaction amount must be Tk. 15,000/- and above
3 Months
6 Months
9 Months
12 Months
New Power Plus (KRY)
EMI at 0%
Mobile Shop
Basundhara City Shopping Mall, Shop-56, Block-C, Level-5, Dhaka
Minimum Transaction amount must be Tk. 5,000/- and above
3 Months
6 Months
9 Months
12 Months
18 Months
24 Months
Durable Plastic Ltd- Best Buy (Pran-Rfl-Group)
EMI at 0%
Others
Pran-RFL Centre, 105 Middle Badda, Dhaka 1212
Minimum Transaction amount must be Tk. 5,000/- and above
3 Months
6 Months
9 Months
12 Months
Hammer Strength Gym
EMI at 0%
Others
Hammer Strength, EVE's Centre (1st Floor) A 1/47 P, East Nasirabad, Panchaish, Chittagong
Minimum Transaction amount must be Tk. 10,000/- and above
3 Months
6 Months
9 Months
12 Months
US-Bangla Airlines
EMI at 0%
Travel & Tour
House-77, Sohrawardi Avenue, Baridhara Diplomatic Zone, Dhaka-1212
Minimum Transaction amount must be Tk. 5,000/- and above
3 Months
6 Months
Amazing Holidays
EMI at 0%
Travel & Tour
30/A, Nayapaltan, Sattara Centre (12th Floor), V.I.P Road, Dhaka-1000
Minimum Transaction amount must be Tk. 10,000/- and above
3 Months
6 Months
9 Months
12 Months
Holidays Story Ltd
EMI at 0%
Travel & Tour
Shop-76, Rajuk Trade Centre, Khilkhet, Dhaka-1229
Minimum Transaction amount must be Tk. 10,000/- and above
3 Months
6 Months
9 Months
12 Months
18 Months
24 Months
Novo Air Ltd
EMI at 0%
Travel & Tour
House-50, 3rd Floor, Road-11, Block-F, Banani, Dhaka-1213
Minimum Transaction amount must be Tk. 10,000/- and above
3 Months
6 Months
Carnival Air Ticketing Ltd
EMI at 0%
Travel & Tour
Ali Bhaban, 09 Rajuk Avenue, Ground Floor, Motijheel, Dhaka-1000
Minimum Transaction amount must be Tk. 20,000/- and above
3 Months
6 Months
Asian Holidays Ltd
EMI at 0%
Travel & Tour
A.R Tower, (14th Floor), 24 kamal Ataturk Avenue, Banani, Dhaka-1212
Minimum Transaction amount must be Tk. 10,000/- and above
6 Months
12 Months
Akashbari Holidays
EMI at 0%
Travel & Tour
Milky Mansion (1st Floor), House-66, Road-10, Block-D, Banani, Dhaka-1213
Minimum Transaction amount must be Tk. 10,000/- and above
3 Months
6 Months
9 Months
12 Months
Gobdgo.com
EMI at 0%
e-Commerce Shop
House-37, Apt-B3, 3rd Floor, Road-27, Block-A, Banani, Dhaka-1213
Minimum Transaction amount must be Tk. 10,000/- and above
6 Months
12 Months
24 Months
Regent Airways
EMI at 0%
Travel & Tour
Siaam Tower, 7th Floor, Plot-15, Road-2, Sector-3, Uttara, Dhaka-1230
Minimum Transaction amount must be Tk. 5,000/- and above
3 Months
6 Months
Walton Plaza
EMI at 0%
e-Commerce Shop
Walton Plaza, Block-1, Plot-1088, Road-Sabrina Sobhan, 5th Avenue, Basundhara, Vatara, Dhaka-1229
(1) Minimum Transaction amount must be Tk. 10,000/- and above
3 Months
6 Months
9 Months
12 Months
Jamuna Electronics & Auto Mobile Ltd
EMI at 0%
Electronics
Jamuna Group, Jamuna Future Park, Ka-244, Pragati Sarani, Kuril Baridhara, Dhaka-1229
(1) Minimum Transaction amount must be Tk. 5,000/- and above
3 Months
6 Months
9 Months
12 Months
Startech & Engineering Ltd.
EMI at 0%
Computer & Accessories
39, Kazi Bhaban, (5th Floor), New Elephant Road, dhaka-1205
(1) Minimum Transaction amount must be Tk. 5,000/- and above
3 Months
6 Months
9 Months
12 Months
18 Months
24 Months
SS Holidays
EMI at 0%
Travel & Tour
Green Mart (2nd Floor), Room-302/A, 33, 33/1, Green Road, Dhaka-1205
(1) Minimum Transaction amount must be Tk. 5,000/- and above
3 Months
6 Months
9 Months
12 Months
Bagdoom.com
EMI at 0%
e-Commerce Shop
House-7, Road-1/B, Niketon, Gulshan-1, Dhaka-1212
(1) Minimum Transaction amount must be Tk. 5,000/- and above
3 Months
6 Months
9 Months
12 Months
18 Months
24 Months
Arnim Holidays
EMI at 0%
Travel & Tour
55, Purana Paltan, Azad Center, Level-4, Suite-4/A, Dhaka
(1) Minimum Transaction amount must be Tk. 5,000/- and above
3 Months
6 Months
9 Months
12 Months
Biman Holidays (Travel Shop Limited)
EMI at 0%
Travel & Tour
Balaka, Kurmitola, Dhaka-1229 https://www.bimanholidays.com/
(1) Minimum Transaction amount must be Tk. 5,000/- and above
3 Months
6 Months
9 Months
12 Months
RM Trading International
EMI at 0%
Mobile Shop
Basundhara City Shopping Mall, Shop-42 & 43, Block-A, Level-6, Dhaka
(1) Minimum Transaction amount must be Tk. 10,000/- and above
3 Months
6 Months
9 Months
12 Months
Rony Enterprise
EMI at 0%
Mobile Shop
Suvashati Syed Center, College Road, Chawkbazar, Chittagong
(1) Minimum Transaction amount must be Tk. 5,000/- and above
3 Months
6 Months
9 Months
12 Months
18 Months
24 Months
Bestcom (Le Royal, Le Meridien Privilege Membership)
EMI at 0%
Hotel & Resorts
49, Kazi Benzir Sarani, Nikunja 02, Khilkhet, Dhaka 1229
(1) Minimum Transaction amount must be Tk. 5,000/- and above
3 Months
6 Months
9 Months
12 Months
Invent Crafts
EMI at 0%
Furniture
199/1/KA, Old Kachukhet, Kafrul, Dhaka-1206
(1) Minimum Transaction amount must be Tk. 5,000/- and above
3 Months
6 Months
9 Months
12 Months
18 Months
24 Months
Online Bangla Shop
EMI at 0%
Mobile Shop
460, Singapure Bangkok Market, 3rd Floor, Agrabad, Chattagram
(1) Minimum Transaction amount must be Tk. 5,000/- and above
3 Months
6 Months
9 Months
12 Months
Walletmix Limited
EMI at 0%
e-Commerce Shop
House-2/b, Road-08, Nikunja-2, Khilkhet, Dhaka-1229
(1) Minimum Transaction amount must be Tk. 5,000/- and above
3 Months
6 Months
9 Months
12 Months
18 Months
24 Months
Apple Gadgets BD
EMI at 0%
Mobile Shop
Shop-24, Block-A, Level-5, bashundhara Shopping Complex, Bangladesh
(1) Minimum Transaction amount must be Tk. 5,000/- and above
3 Months
6 Months
9 Months
12 Months
18 Months
24 Months
Otobi Furniture Limited
EMI at 0%
Furniture
Otobi Center, Plot-12, Block-CWS ?, Gulshan south avenue, Gulshan-1, Dhaka-1212
(1) Minimum Transaction amount must be Tk. 5,000/- and above
3 Months
6 Months
9 Months
12 Months
Brothers Furniture Limited
EMI at 0%
Furniture
Plot-82, Block-J, Progoti Sharani, Baridhara, Dhaka-1212
(1) Minimum Transaction amount must be Tk. 5,000/- and above
3 Months
6 Months
9 Months
12 Months
Ryans IT Limited
EMI at 0%
Computer & Accessories
Kusholi Bhaban, Level-5, Begaum Rokeya Sharani, Taltola, Agargaon, Dhaka
(1) Minimum Transaction amount must be Tk. 5,000/- and above
3 Months
6 Months
9 Months
12 Months
Rasel Industries Limited
EMI at 0%
Bi-Cycle & Bike
Road-2/1, House-7, Banani, Chairman Bari, Dhaka-1213
(1) Minimum Transaction amount must be Tk. 10,000/- and above
3 Months
6 Months
9 Months
12 Months
18 Months
24 Months
Surecell Medical BD Limited
EMI at 0%
Health Care & Beauty
Plot-2, Road-21, Gulshan-1, Dhaka-1212
(1) Minimum Transaction amount must be Tk. 5,000/- and above
3 Months
6 Months
9 Months
12 Months
Rifats Dental Implant Leser Cosmetic Care
EMI at 0%
Health Care & Beauty
39, New Elephant Road, Kazi Bhaban (3rd Floor), Dhaka-1205
(1) Minimum Transaction amount must be Tk. 5,000/- and above
3 Months
6 Months
9 Months
12 Months
Body Balance
EMI at 0%
Health Care & Beauty
Plot-2, Road-21, Gulshan-1, Dhaka-1212
(1) Minimum Transaction amount must be Tk. 5,000/- and above
3 Months
6 Months
9 Months
12 Months
Woodies
EMI at 0%
Furniture
298, Shadinata Sharani, Khanka Sharif Road, North Badda, Dhaka-1212
(1) Minimum Transaction amount must be Tk. 5,000/- and above
3 Months
6 Months
9 Months
12 Months
Sandiwp Jewellers
EMI at 0%
Fashion & Life Style
227, Aktaruzzaman center, 2nd Floor, Agrabad, Chattagram
(1) Minimum Transaction amount must be Tk. 5,000/- and above
3 Months
6 Months
9 Months
12 Months
Sandiwp Grihinee Jewellers
EMI at 0%
Fashion & Life Style
445, Singapur bangkok market, 4th Floor, Agrabad, C/A, Chattagram
(1) Minimum Transaction amount must be Tk. 5,000/- and above
3 Months
6 Months
9 Months
12 Months
Lotus International
EMI at 0%
Electronics
1/B, Kalwalapara Main Road, 1-4 Asha Plaza, 1st Floor, Mirpur-1, Dhaka-1216
(1) Minimum Transaction amount must be Tk. 5,000/- and above
3 Months
6 Months
9 Months
12 Months
18 Months
24 Months
Jastel
EMI at 0%
Mobile Shop
101/102, Ground Floor, Rangdhonu Shopping Complex, Pallabi, Mirpur, Dhaka-1216
(1) Minimum Transaction amount must be Tk. 5,000/- and above
3 Months
6 Months
9 Months
12 Months
18 Months
24 Months
Orpon BD
EMI at 0%
e-Commerce Shop
House-8, Block-A, Section-10, Avenue-1, Mirpur-1216
(1) Minimum Transaction amount must be Tk. 5,000/- and above
3 Months
6 Months
9 Months
12 Months
18 Months
24 Months
New Radio Voice
EMI at 0%
Electronics
417, Biponi Bitan, 3rd Floor, New Market, Chattagram
(1) Minimum Transaction amount must be Tk. 5,000/- and above
3 Months
6 Months
9 Months
12 Months
18 Months
24 Months
Exclusive Games Zone
EMI at 0%
Mobile Shop
Shop-67, Block-D, Level-6, Bashundhara Shopping Complex, Panthapath, Dhaka-1215
(1) Minimum Transaction amount must be Tk. 5,000/- and above
3 Months
6 Months
9 Months
12 Months
18 Months
24 Months
Gadget Shop
EMI at 0%
Mobile Shop
Shop-30, Block-B, Level-6, Bashundhara Shopping Complex, Panthapath, Dhaka-1215
(1) Minimum Transaction amount must be Tk. 5,000/- and above
3 Months
6 Months
9 Months
12 Months
18 Months
24 Months
Phones 4U
EMI at 0%
Mobile Shop
Shop-31, Block-A, Level-5, Bashundhara Shopping Complex, Panthapath, Dhaka-1215
(1) Minimum Transaction amount must be Tk. 5,000/- and above
3 Months
6 Months
9 Months
12 Months
18 Months
24 Months
Gadget & Phone
EMI at 0%
Mobile Shop
Shop-9, Block-C, Level-1, Bashundhara Shopping Complex, Panthapath, Dhaka-1215
(1) Minimum Transaction amount must be Tk. 5,000/- and above
3 Months
6 Months
9 Months
12 Months
18 Months
24 Months
Gadget Zone
EMI at 0%
Mobile Shop
Shop-19, Block-B, Level-1, Bashundhara Shopping Complex, Panthapath, Dhaka-1215
(1) Minimum Transaction amount must be Tk. 5,000/- and above
3 Months
6 Months
9 Months
12 Months
18 Months
24 Months
Al Insaf Telecom
EMI at 0%
Mobile Shop
Shop-45, Block-B, Level-1, Bashundhara Shopping Complex, Panthapath, Dhaka-1215
(1) Minimum Transaction amount must be Tk. 5,000/- and above
3 Months
6 Months
9 Months
12 Months
18 Months
24 Months
Royal Tulip Sea Pearl Beach Resort & Spa Limited
EMI at 0%
Hotel & Resorts
Jalipalong, Inani, Ukhia, Cox's Bazar Zila, Bangladesh
(1) Minimum Transaction amount must be Tk. 5,000/- and above
3 Months
6 Months
Brothers Mobile & Accessories
EMI at 0%
Mobile Shop
Jamuna Future Park, Level-4, Block-C, Shop-001B1, Ka-244, Kuril Pragati Sarani, Dhaka
(1) Minimum Transaction amount must be Tk. 5,000/- and above
3 Months
6 Months
9 Months
12 Months
18 Months
24 Months
I-Point
EMI at 0%
Mobile Shop
Jamuna Future Park, Level-4, Block-C, Shop-36/C, Dhaka
(1) Minimum Transaction amount must be Tk. 5,000/- and above
3 Months
6 Months
9 Months
12 Months
18 Months
24 Months
Touch on Demand
EMI at 0%
Mobile Shop
Jamuna Future Park, Level-4, Block-C, Shop-32/C, Dhaka
(1) Minimum Transaction amount must be Tk. 5,000/- and above
3 Months
6 Months
9 Months
12 Months
18 Months
24 Months
Phone Zone
EMI at 0%
Mobile Shop
Jamuna Future Park, Level-4, Block-C, Shop-26, Dhaka
(1) Minimum Transaction amount must be Tk. 5,000/- and above
3 Months
6 Months
9 Months
12 Months
18 Months
24 Months
Prince International Trade
EMI at 0%
Mobile Shop
Jamuna Future Park, Level-4, Block-C, Shop-021C, Dhaka
(1) Minimum Transaction amount must be Tk. 5,000/- and above
3 Months
6 Months
9 Months
12 Months
18 Months
24 Months
Bushra Furniture
EMI at 0%
Furniture
18 Shadhinata Sharani (infront of Khanka Sharif), North Badda, Dhaka-1212
(1) Minimum Transaction amount must be Tk. 5,000/- and above
3 Months
6 Months
9 Months
12 Months
18 Months
24 Months
Speedoz Limited
EMI at 0%
Bi-Cycle & Bike
Speedoz Limited, Holding-60, New Airport Road, Amtoli, Mohakhali, Dhaka-1212
(1) Minimum Transaction amount must be Tk. 3,000/- and above
3 Months
6 Months
9 Months
12 Months
18 Months
24 Months
Computer Squadron
EMI at 0%
Computer & Accessories
75-76 B.S Bhaban (L6-103), Laboratory Road, New Elephant Road, Dhaka-1205
(1) Minimum Transaction amount must be Tk. 5,000/- and above
3 Months
6 Months
9 Months
12 Months
18 Months
24 Months
M/S Ibrahim Trading
EMI at 0%
Electronics
House-19, Road-10/A, Sector-11, Uttara, Dhaka-1230
(1) Minimum Transaction amount must be Tk. 5,000/- and above
3 Months
6 Months
9 Months
12 Months
18 Months
24 Months
Tryotel Travels Limited
EMI at 0%
Electronics
House-74, Wali center, 3rd Floor, Gulshan-1, Dhaka-1212
(1) Minimum Transaction amount must be Tk. 5,000/- and above
3 Months
6 Months
9 Months
12 Months
18 Months
24 Months
Prime Electronics
EMI at 0%
Electronics
House-1, Road-19, Garib-E-Newaz Avenue, Sector-11, Uttara, Dhaka-1230
(1) Minimum Transaction amount must be Tk. 5,000/- and above
3 Months
6 Months
9 Months
12 Months
18 Months
24 Months
Ponno BD
EMI at 0%
Electronics
46, Shewrapara, (3rd Floor), Mirpur, Dhaka-1216
(1) Minimum Transaction amount must be Tk. 5,000/- and above
3 Months
6 Months
9 Months
12 Months
18 Months
24 Months
The Barber's Station
EMI at 0%
Health Care & Beauty
RM center, 3rd Floor, 101 Gulshan Avenue, Dhaka-1212
(1) Minimum Transaction amount must be Tk. 5,000/- and above
3 Months
6 Months
9 Months
12 Months
18 Months
24 Months
Krishibid Tours & Traveles
EMI at 0%
Travel & Tour
801, Rokeya Shoroni, Kazipara, Mirpur, Dhaka
(1) Minimum Transaction amount must be Tk. 5,000/- and above
3 Months
6 Months
9 Months
12 Months
18 Months
24 Months
Habib Tazkiras Limited
EMI at 0%
Fashion & Life Style
3rd Floor, Equity Centrium, O R Nizam Road, Near GEC Circle, Chattagram
(1) Minimum Transaction amount must be Tk. 5,000/- and above
3 Months
6 Months
9 Months
12 Months
18 Months
24 Months
Hi-Tech Lifestyle & Furniture
EMI at 0%
Furniture
212, (6th Floor), Elephant Road, Dhaka-1205
(1) Minimum Transaction amount must be Tk. 5,000/- and above
3 Months
6 Months
9 Months
12 Months
Flora Limited
EMI at 0%
Computer & Accessories
Plot-6/A, road-32, Gulshan Avenue, dhaka
(1) Minimum Transaction amount must be Tk. 5,000/- and above
3 Months
6 Months
9 Months
12 Months
18 Months
24 Months
ITS Holidays
EMI at 0%
Travel & Tour
Punashi Villa, Flat 4/A, Level-4, House-150, Block-E, road-10, Banani
(1) Minimum Transaction amount must be Tk. 5,000/- and above
3 Months
6 Months
9 Months
12 Months
18 Months
24 Months
Trust Point
EMI at 0%
Mobile Shop
Level-1, Block-C, Shop-7, Bashundhara shopping mall, panthapath, Dhaka-1215
(1) Minimum Transaction amount must be Tk. 5,000/- and above
3 Months
6 Months
9 Months
12 Months
18 Months
24 Months
Unique Furniture Gallery
EMI at 0%
Furniture
17, Nazimuddin Road, Dhaka-1100
(1) Minimum Transaction amount must be Tk. 5,000/- and above
3 Months
6 Months
9 Months
12 Months
Rokeya Electronics
EMI at 0%
Electronics
Razzak Commercial Complex, Zirabo, Ashulia, Dhaka-1341
(1) Minimum Transaction amount must be Tk. 5,000/- and above
3 Months
6 Months
9 Months
12 Months
18 Months
24 Months
Executive Machins Limited (I-Phone)
EMI at 0%
Mobile Shop
House-49, Sharwardy Avenue, Block-K, Baridhara, Gulshan, dhaka-1212
(1) Minimum Transaction amount must be Tk. 5,000/- and above
3 Months
6 Months
9 Months
12 Months
18 Months
24 Months
Gadget & Gear
EMI at 0%
Mobile Shop
Police plaza, level-14, Gulshan-1, Dhaka
(1) Minimum Transaction amount must be Tk. 5,000/- and above
3 Months
6 Months
9 Months
12 Months
18 Months
24 Months
The South Asian Tourism
EMI at 0%
Travel & Tour
House-227-228, Pubali Market, Seroil Bus Stand, Rajshahi-6100
(1) Minimum Transaction amount must be Tk. 5,000/- and above
3 Months
6 Months
9 Months
12 Months
18 Months
24 Months
Discount Partner
Partner Type: Discount
| Merchants Name | Partner Type | Merchant Category | Offer Details/ Discount Value | Terms and Conditions | Expiry /Status | Addess(s)/ Outlet(s)/ Website | City |
| --- | --- | --- | --- | --- | --- | --- | --- |
| Insight Fashion | Discount | Fashion & Life Style | Up to 12% discount for all products | (1) Offer applicable for MDB Prepaid, Debit and Credit Cards. (2) Clubbing of this discount offer with any other offer(s) simultaneously running at the participating outlet(s) will be the sole discretion of the Merchant. | Active | (1) Maqsud Tower, 65 Elefhant Road, Dhaka-1205 (2) House 25, 1st Floor, Road -11, Block-H, Banani, Dhaka 1213 | Dhaka |
| Hotel Bengal Blue Berry | Discount | Hotel & Resorts | 40% discount on room rent from the published rack rate, 10% discount on the Blue Licious restaurant, 10% discount on the Swiss Delight coffee shop | (1) Offer applicable for MDB Prepaid, Debit and Credit Cards, (2) Prior reservation is mandatory (3) Cardholder should inform the outlet prior to prepare the bill to enjoy the discount. | Active | House-1/A, Road-90, Gulshan-2, Dhaka-1212 . Website: http://www.bengalblueberry.com/ | Dhaka |
| Momo Inn Limited | Discount | Hotel & Resorts | 40% discount on Rooms on published/ rack rate, 40% discount on Venus, 40% discount on Mini Conference, 40% discount on Banquet Hall, 40% discount on The Pallet on Published/rake rate. | (1) Offer applicable for MDB Prepaid, Debit and Credit Cards, (2) Prior reservation is mandatory (3) Cardholder should inform the outlet prior to prepare the bill to enjoy the discount | Active | Nawdapara, Bogra-5800. Website: https://momoinn.com/ | Bogra |
| Pushpo Nir | Discount | Fashion & Life Style | 14% discount on total bill amount at Pushpo Nir | (1) Offer applicable for MDB Prepaid, Debit and Credit Cards, (2) Clubbing of this discount offer with any other offer(s) simultaneously running at the participating outlet(s) will be the sole discretion of the Merchant, (3) Cardholder should inform the outlet prior to prepare the bill to enjoy the discount. | Active | House -15/B, Road-35, Gulshan-2, Dhaka-1212. Website: http://www.pushponirbd.com/ | Dhaka |
| Shoppers World Ltd. | Discount | Fashion & Life Style | 10% discount for all products (Except Cosmetic Products) | (1) Offer applicable for MDB Prepaid, Debit and Credit Cards, (2) Clubbing of this discount offer with any other offer(s) simultaneously running at the participating outlet(s) will be the sole discretion of the Merchant, (3) Cardholder should inform the outlet prior to prepare the bill to enjoy the discount. | Active | House-43/B, Road-123, Gulshan-1, Dhaka-1212. Facebook Id: www.facebook.com/shoppersworld | Dhaka |
| Hotel Bengal Canary Park | Discount | Hotel & Resorts | 50% discount on Rooms ( on weekend) on published rate, 50% discount on Venus on published rate, 35% discount on Rooms (on Weekdays) on published rate, 20% discount on Thai Spa on published rate, 10% discount on Coffee Shop on published rate, 10% discount on Foods on published rate | (1) Offer applicable for MDB Prepaid, Debit and Credit Cards, (2) Prior reservation is mandatory (3) Cardholder should inform the outlet prior to prepare the bill to enjoy the discount, (4) Cardholder must pay the bill by presenting his/her MDB Cards at the outlet | Active | Plot-8, Road-16A, Gulshan-1, Dhaka-1212. Website: http://www.hotelcanarypark.com/ | Dhaka |
| Amari Dhaka | Discount | Hotel & Resorts | 10% discount on food at Cascade Lounge, 50% discount on the rack rate on rooms at Amari Dhaka, 40% off on the Banquet Hall rack rate, 15% discount on Breeze Spa treatment | (1) Offer applicable for MDB Credit Cards, (2) Prior reservation is mandatory (3) Cardholder should inform the outlet prior to prepare the bill to enjoy the discount, (4) Cardholder must pay the bill by presenting his/her MDB Cards at the outlet, (5) Clubbing of this discount offer with any other offer(s) simultaneously running at the participating outlet(s) will be the sole discretion of the merchant | Active | House-47, Road-41, Gulshan-2, Dhaka-1212. Website: https://www.amari.com/dhaka/ | Dhaka |
| Evercare Hospital Ltd | Discount | Health Care & Beauty | 5% discount on in-patient medical services on hospital standard tariff (excluding consumables/ pharmacy/room and standard bed) | (1) Offer applicable for MDB Credit Cards, (2) Cardholder should inform the outlet prior to prepare the bill to enjoy the discount, (3) The Patient must pay the bill by presenting his/her MDB Cards at the hospital, (4) Clubbing of this discount offer with any other offer(s) simultaneously running at the participating outlet(s) will be the sole discretion of the hospital | Inactive | Plot-81, Block-E, Bashundhara R/A, Dhaka-1229. Website: https://www.apollodhaka.com/ | Dhaka |
| STS Life Care Centre | Discount | Health Care & Beauty | 5% discount on standard tariff on investigations & MHC Packages at STS Life Care Centre | (1) Offer applicable for MDB Credit Cards, (2) Cardholder should inform the outlet prior to prepare the bill to enjoy the discount, (3) The Patient must pay the bill by presenting his/her MDB Cards at the hospital, (4) Clubbing of this discount offer with any other offer(s) simultaneously running at the participating outlet(s) will be the sole discretion of STS Life Care Centre authority | Active | House-8A, Road-143, Gulshan-1, Dhaka-1212. Website: http://www.stslifecare.com/ | Dhaka |
| Gitanjali Jewellers | Discount | Fashion & Life Style | 35% discount on Diamond Jewelry during festivals, 35% discount on Gold Jewelry(making charge) | (1) Offer applicable for MDB Credit Cards. (2) Clubbing of this discount offer with any other offer(s) simultaneously running at the participating outlet(s) will be the sole discretion of the Merchant, (3) This discount offer is applicable at all its outlets | Active | Shop-21, 2nd Floor, Gulshan Pink City, Gulshan-2, Dhaka-1212. Website: http://www.gitanjalijewellerssbd.com/ | Dhaka |
| Fish & Co | Discount | Dining | 10% discount on bill amount from Gulshan outlet | (1) Offer applicable for MDB Debit, Prepaid and Credit Cards. (2) Clubbing of this discount offer with any other offer(s) simultaneously running at the participating outlet(s) will be the sole discretion of the Merchant, (3) This discount offer will applicable at Gulshan Outlet only. (4) Cardholder should inform the outlet prior to prepare the bill to enjoy the discount. | Active | Crystal Palace, 22 Gulshan-1, Dhaka-1212. Website: https://www.fish-co.com/ | Dhaka |
| Zaara Fashion Mall Limited | Discount | Fashion & Life Style | 10% discount on all goods (except Jewelry and Cosmetic items) | (1) Offer applicable for MDB Debit, Prepaid and Credit Cards. (2) Clubbing of this discount offer with any other offer(s) simultaneously running at the participating outlet(s) will be the sole discretion of the Merchant, (3) Cardholder should inform the outlet prior to prepare the bill to enjoy the discount. | Active | Haque Plaza, House-7, Road-14, Gulshan-1, Dhaka-1212. Website: http://zaarafashions.com.bd/ | Dhaka |
| Sky Room Reastaurant Limited | Discount | Dining | 10% discount on all goods sold or services | (1) Offer applicable for MDB Prepaid, Debit and Credit Cards, (2) Cardholder should inform the outlet prior to prepare the bill to enjoy the discount. | Active | 8, Kamal Ataturk Avenue, ABC House, 12 Floor, Banai, Dhaka-1213. Facebook Id: https://www.facebook.com/SkyRoomDining/ | Dhaka |
| Boss Sweets & Food Ltd | Discount | Fashion & Life Style | 10% discount on bill amount | (1) Offer applicable for MDB Prepaid, Debit and Credit Cards, (2) Cardholder should inform the outlet prior to prepare the bill to enjoy the discount, (3) Clubbing of this discount offer with any other offer(s) simultaneously running at the participating outlet(s) will be the sole discretion of the Merchant | Active | 44/K/1, Indira Road, Dhaka. Website: http://www.bosssweets.com/ | Dhaka |
| Baton Rouge | Discount | Dining | 4% discount on total bill at Lunch, 8% discount on total bill at Dinner | (1) Offer applicable for MDB Prepaid, Debit and Credit Cards, (2) Cardholder should inform the outlet prior to prepare the bill to enjoy the discount, (3) Clubbing of this discount offer with any other offer(s) simultaneously running at the participating outlet(s) will be the sole discretion of the Merchant | Active | Plot-15, 7th Floor, Pink City, 103 Gulshan Avenue, Dhaka-1212. Website: http://www.batonrouge-casagreek.com/about-batn.htm | Dhaka |
| Advanced Diagonostic Centre Ltd. | Discount | Health Care & Beauty | 20% discount on all medical tests | (1) Offer applicable for Credit Cards, (2) Cardholder should inform the outlet prior to prepare the bill to enjoy the discount | Active | House -11, 1st Floor, Block-B, Main Road, Banasre, Rampura, Dhaka-1219. Facebook Id: https://www.facebook.com/advance.hospital.limited | Dhaka |
| Epic Health Care Ltd | Discount | Health Care & Beauty | 20% discount on Pathology, 15% discount on Imaging & Hormone, 10% discount on CT Scan, MRI, BMD & Colonoscopy, (4) 10% on others Tests. | (1) Offer applicable for MDB Prepaid, Debit and Credit Cards, (2) Cardholder should inform the outlet prior to prepare the bill to enjoy the discount | Active | Epic Center, 19K.B Fazlu Kader Road, Panchlaish, Chittagong | Chattogram |
| VLCC Health Care PVT. Limited | Discount | Health Care & Beauty | 15% discount on Slimming & Beauty packages | (1) Offer applicable for MDB Debit and Credit Cards, (2) Cardholder should inform the outlet prior to prepare the bill to enjoy the discount | Inactive | RM Center, 4th Floor, H-101, Gulshan-2, Dhaka-1212. Website: https://www.vlccwellness.com/Bangladesh/ | Dhaka |
| Six Seasons Hotel | Discount | Hotel & Resorts | 50% discount on the rack rate on rooms, 50% off on the banquet hall rack rate for a group of minimum 100 pepole, 10% discount on Swimming Pool and Weekend package @ BDT 10,000 net per room from Thursday to Sunday | (1) Offer applicable for MDB Credit Cards, (2) Prior reservation is mandatory (3) Cardholder should inform the outlet prior to prepare the bill to enjoy the discount, (4) Cardholder must pay the bill by presenting his/her MDB Cards at the outlet, (5) Clubbing of this discount offer with any other offer(s) simultaneously running at the participating outlet(s) will be the sole discretion of the merchant | Active | House-19, Road-96, Gulshan-2, Dhaka-1212. Website: https://sixseasonshotel.com/ | Dhaka |
| Seagul Hotels Ltd. | Discount | Hotel & Resorts | 35% off on Working days (Sunday to Wednesday) and 40% off on Week day during peak season, 40% off on Working days (Sunday to Wednesday) and 45% off on Week day during off-peak season | (1) Offer applicable for MDB Prepaid, Debit and Credit Cards, (2) Prior reservation is mandatory (3) Cardholder should inform the outlet prior to prepare the bill to enjoy the discount, (4) Discount is not applicable on first and last 10 days of every year, 3 days before EID and 7 days from Eid day and long Govt. Holidays | Active | Hotel Motel Zone, Coxs Bazar brunch, Bangladesh. Website: http://www.seagullhotelbd.com/ | Coxs Bazar |
| Hotel The Cox Today | Discount | Hotel & Resorts | 40% discount on all kinds room rent round the year, 10% discount on restaurant, 15% discount on spa, 30% discount on Gymnasium. | (1) Offer applicable for MDB Credit Cards, (2) Prior reservation is mandatory (3) Cardholder should inform the outlet prior to prepare the bill to enjoy the discount, (4) Discount is not applicable on first and last five days of every year and 10 days after and before during EID festivals | Active | Plot-7, road-02, Hotel Motel Zone, Kotoaly Road, Coxs Bazar. Website: https://hotelthecoxtoday.com/ | Coxs Bazar |
| Long Beach Hotel Ltd. | Discount | Hotel & Resorts | 30% discount on room tariff for all types of rooms during peak season (1st September to 30th April), 40% discount on room tariff for all types of rooms during off peak season (1st May to 31st August) | (1) Offer applicable for MDB Credit Cards, (2) Prior reservation is mandatory (3) Cardholder should inform the outlet prior to prepare the bill to enjoy the discount, (4) Discount is not applicable for long weekend, EID, Puja, 25-26th December and 31st December night and New Year package | Active | 14 Kalatoli, Hotel Motel Zone, Coxs Bazar, chittagong. Website: https://longbeachhotelbd.com/ | Coxs Bazar |
| Hotel Agrabad, Chittagong | Discount | Hotel & Resorts | 50% discount on room rent for all types of room round the year, 15% discount on buffet & al-a-carte (Cinnamon, Oasis, East Pan-Asia, Ichiban Restaurant), 20% discount on SPA, 20% discount voucher on swimming voucher | (1) Offer applicable for MDB Credit Cards, (2) Prior reservation is mandatory (3) Cardholder should inform the outlet prior to prepare the bill to enjoy the discount, (4) Clubbing of this discount offer with any other offer(s) simultaneously running at the participating outlet(s) will be the sole discretion of the Hotel | Active | Sabder Ali Road, Agrabad C/A, Chittagong. Website: http://agrabadhotel.com/en/ | Chattogram |
| Sheltech Holdings Limited (Platinum Residence) | Discount | Hotel & Resorts | 20% discount at café Nemo for A-la-Carte menu, 15% discount at platinum terrace for A-la-Carte menu, 35% discount on rooms from the rack rate, 50% discount on rooms for weekends and public holidays (subject to the availability) | (1) Offer applicable for MDB Credit Cards, (2) Prior reservation is mandatory (3) Cardholder should inform the outlet prior to prepare the bill to enjoy the discount, (4) Clubbing of this discount offer with any other offer(s) simultaneously running at the participating outlet(s) will be the sole discretion of the Hotel | Active | House-35, Road-19, Nikunja-2, Dhaka-1229. Website: http://www.platinumhotels.com.bd/platinum-grand/contact.php | Dhaka |
| Sheltech Holdings Limited (Platinum Suites) | Discount | Hotel & Resorts | 20% discount at café Nemo for A-la-Carte menu, 15% discount at platinum terrace for A-la-Carte menu, 35% discount on rooms from the rack rate, 50% discount on rooms for weekends and public holidays (subject to the availability) | (1) Offer applicable for MDB Credit Cards, (2) Prior reservation is mandatory (3) Cardholder should inform the outlet prior to prepare the bill to enjoy the discount, (4) Clubbing of this discount offer with any other offer(s) simultaneously running at the participating outlet(s) will be the sole discretion of the Hotel | Active | House-35, Road-19, Nikunja-2, Dhaka-1229. Website: http://www.platinumhotels.com.bd/platinum-grand/contact.php | Dhaka |
| Sheltech Holdings Limited ( Platinum Grand) | Discount | Hotel & Resorts | 20% discount at café Nemo for A-la-Carte menu, 15% discount at platinum terrace for A-la-Carte menu, 35% discount on rooms from the rack rate, 50% discount on rooms for weekends and public holidays (subject to the availability) | (1) Offer applicable for MDB Credit Cards, (2) Prior reservation is mandatory (3) Cardholder should inform the outlet prior to prepare the bill to enjoy the discount, (4) Clubbing of this discount offer with any other offer(s) simultaneously running at the participating outlet(s) will be the sole discretion of the Hotel | Active | House-35, Road-19, Nikunja-2, Dhaka-1229. Website: http://www.platinumhotels.com.bd/platinum-grand/contact.php | Dhaka |
| Hotel Sarina | Discount | Hotel & Resorts | 35% discount on Room Tariff for all types of rooms round the year, 15% discount on all foods & beverages (except alcoholic beverages) for both buffet & al-a-carte menu at all dining restaurants, 15% discount on Summerfields- A Coffee Shop. | (1) Offer applicable for MDB Credit Cards, (2) Prior reservation is mandatory (3) Cardholder should inform the outlet prior to prepare the bill to enjoy the discount, (4) Clubbing of this discount offer with any other offer(s) simultaneously running at the participating outlet(s) will be the sole discretion of the Hotel | Active | Plot-27, Road-17, banani C/A, Dhaka. Website: https://www.sarinahotel.com/ | Dhaka |
| United Hospital Limited | Discount | Health Care & Beauty | 20% discount on all pathological tests carried out in the laboratory, 10% discount on all diagnostic tests carried out in Radiology and imaging department and other diagnostic services like ECG, ECHO, ETT, 5% discount on Cabin in case of admission as in-patient of MDB cardholder | (1) Offer applicable for MDB Platinum Credit Cards, (2) Cardholder should inform the outlet prior to prepare the bill to enjoy the discount, (3) The Patient must pay the bill by presenting his/her MDB Cards at the hospital, (4) Clubbing of this discount offer with any other offer(s) simultaneously running at the participating outlet(s) will be the sole discretion of the hospital | Inactive | Plot-15, Road-71, Gulshan-2, dhaka-1212. website: http://www.uhlbd.com/ | Dhaka |
| Biman Holidays (Biman Bangladesh Airlines) | Discount | Travel & Tour | 10% discount on base fares for economy and business class in case of all domestic and international routes when tickets will be booked through bimanholidays.com round the year, 20% discount on base fares for all business class during promotional period offered by Bangladesh Biman | (1) Offer applicable for MDB Prepaid, Debit and Credit Cards, (2) Cardholder shall be allowed to buy a maximum 4 tickets at a time, (3) Discount is not applicable on infant ticket, (4) Domestic base fare will be minimum BDT 2,500 for one way and BDT 5,000 for return ticket, (5) Clubbing of this discount offer with any other offer(s) simultaneously running at Biman Bangladesh Airlines will be the sole discretion of the Biman Holidays and Biman Sales Outlet(s), (6) Cardholder must use Promo Code " BGMDB10" to get 10% discount and Promo Code "BGMDB20" to get 20% discount. | Active | Balaka, Kurmitola, Dhaka-1229. Website: https://www.bimanholidays.com/ | Dhaka |
| The Peninsula Chittagong | Discount | Hotel & Resorts | 35% discount on room rent, 15% discount at Laguna Restaurant for both Al-a-Carte and Buffet Menu, 15% discount on café 24 service, 20% discount on Tararom Spa | (1) Offer applicable for MDB Credit Cards, (2) Prior reservation is mandartory (3) Cardholder should inform the outlet prior to prepare the bill to enjoy the discount, (4) Clubbing of any other discounts will be at the sole discretion of the Hotel | Active | Bulbul Center, 486/B, O.R. Nizam Road, CDA Avenue, Chittagong. Website: http://www.peninsulactg.com/ | Chattogram |
| Sayeman Beach Resort | Discount | Hotel & Resorts | 30% discount on Room Rent during peak season (Oct-March), 40% discount on Room Rent during off peak-season ( April- September), 25% discount on Venue Charges | (1) Offer applicable for MDB Credit Cards, (2) Prior reservation is mandatory (3) Cardholder should inform the outlet prior to prepare the bill to enjoy the discount, (4) Clubbing of any other discounts will be at the sole discretion of the Hotel | Active | Marine Drive Road, Kolatoli Coxs Bazar. Website: http://www.sayemanresort.com/ | Coxs Bazar |
| Saltz | Discount | Dining | 10% discount on dining | (1) Offer applicable for MDB Prepaid, Debit and Credit Cards, (2) Cardholder should inform the outlet prior to prepare the bill to enjoy the discount, (3) Clubbing of any other discounts will be at the sole discretion of the Restaurant | Active | NWF, 8, Gulshan North Avenue, Dhaka-1212. Website: https://saltzbd.com/ | Dhaka |
| Diamond World Ltd. | Discount | Fashion & Life Style | 20% discount on Diamond Jewelry, 20% discount on making charge of Gold products | (1) Offer applicable for MDB Credit Cards. (2) Clubbing of this discount offer with any other offer(s) simultaneously running at the participating outlet(s) will be the sole discretion of the Merchant, (3) This discount offer is applicable at all its outlets | Active | House-68/1, Gulshan-1, Dhaka-1212. Website: https://www.diamondworldltd.com/ | Dhaka |
| Ocean Paradise Hotel & Resort | Discount | Hotel & Resorts | 40% discount on the published rack rate during peak period (Oct- March), 50% discount on the published rack rate during off-peak period (April- September), 50% discount on Ball Room, Meeting Rooms round the year, 10% discount on food at Curry Leaf only | (1) Offer applicable for MDB Credit Cards, (2) Prior reservation is mandatory (3) Cardholder should inform the outlet prior to prepare the bill to enjoy the discount, (4) This concession is not valid for long weekend, EID, Puja week and 31st night. | Active | 28-29 Hotel Motel Zone, Kolatoli Road, Coxs Bazar. Website: http://www.oceanparadisehotel.com/ | Coxs Bazar |
| Best Western Plus Heritage | Discount | Hotel & Resorts | 45% on the published rack rate during peak period (Oct- March), 55% discount on the published rack rate during off-peak period (April-September), 50% discount on Ball Room, 15% discount on Food @ Ala-a-Carte menu for both Lunch & Dinner | (1) Offer applicable for MDB Credit Cards, (2) Prior reservation is mandatory (3) Cardholder should inform the outlet prior to prepare the bill to enjoy the discount, (4) This concession is not valid for EID, Puja, Public Holiday and 31st Night | Active | Kolatoli Circle, Coxs Bazar-4700. Website: http://bwpheritagehotel.com/ | Coxs Bazar |
| Rose View, Sylhet | Discount | Hotel & Resorts | 45% discount on Room Tariff from published rate, 10% special discount on Al-a- Carte menu at Restaurant , 20% discount on Siam Thai Spa | (1) Offer applicable for MDB Prepaid, Debit and Credit Cards, (2) Prior reservation is mandatory (3) Cardholder should inform the outlet prior to prepare the bill to enjoy the discount | Active | Shajalal Uposhohor, Sylhet-3100. Website: http://www.roseviewhotel.com/ | Sylhet |
| Air Asia GSA (Total Air Services) | Discount | Travel & Tour | 10% discount on the base fare for only the route of Dhaka- Kualampur-Dhaka | (1) Offer applicable for MDB Prepaid, Debit and Credit Cards, (2) Clubbing of any other discounts will be at the sole discretion of the Air Asia GSA, (3) Ticket must be purchased from General Sales Agent of Total Sir Services Limited, (4) Booking Air Asia ticket from online/e-commerce site or other sales agent will not be considered to avail this privileges | Inactive | GSA Outlet: House (5th Floor),18 Kamal Ataturk Avenue, Banani C/A, Dhaka-1213 | Dhaka |
| Nokkhottrobari Resort | Discount | Hotel & Resorts | 30% discount on room Rent from the published rate, 10% discount on foods, 20% discount on Conference Hall from the published rate | (1) Offer applicable for MDB Credit Cards, (2) Prior reservation is mandatory (3) Clubbing of this discount offer with any other offer(s) simultaneously running at the participating outlet(s) will be the sole discretion of the Resort Authority | Active | House-268 ( Second floor), Road-19, new Mohakhali DOSH, Dhaka-1206. Website: http://nokkhottrobari.com/ | Gazipur |
| Ahang Fashion & Crafts Ltd | Discount | Fashion & Life Style | Up to 21% discount for all products | (1) Offer applicable for MDB Debit, Prepaid and Credit Cards. (2) Clubbing of this discount offer with any other offer(s) simultaneously running at the participating outlet(s) will be the sole discretion of the Merchant | Active | 54/A, Gulshan Avenue, Gulshan-1, Dhaka-1212 | Dhaka |
| Sonargaon Royal Resort | Discount | Hotel & Resorts | 30% discount on rent for all room classes from the published rate, 50% discount on Banquet / Conference Venues | (1) Offer applicable for MDB Credit Cards, (2) Prior reservation is mandatory (3) Clubbing of this discount offer with any other offer(s) simultaneously running at the participating outlet(s) will be the sole discretion of the Resort Authority | Active | Khashnagar, Dighirpar, Sonargaon, Narayanganj. Website: https://sonargaonroyalresort.com/ | Narayongonj |
| Bread & Beyond (Food Edge Ltd.) | Discount | Others | 10% discount on bill amount from all outlets | (1) Offer applicable for MDB Debit, Prepaid and Credit Cards. (2) Clubbing of this discount offer with any other offer(s) simultaneously running at the participating outlet(s) will be the sole discretion of the Merchant | Active | 139 Motijheel C/A, Sadharan Bima Bhaban-2, Dhaka-1000. Website: https://breadandbeyondbd.com/ | Dhaka |
| Handi Indian Bristro | Discount | Dining | 10% discount on bill amount | (1) Offer applicable for MDB Debit, Prepaid and Credit Cards. (2) Clubbing of this discount offer with any other offer(s) simultaneously running at the participating outlet(s) will be the sole discretion of the Merchant, (3) Cardholder should inform the outlet prior to prepare the bill to enjoy the discount. | Active | House: 68, Road: 10, Block:10, Banani Old, Enamul Hoq Chowdhury Road, Dhaka 1213 | Dhaka |
| Krua Thai | Discount | Dining | 10% discount on total bill amount | (1) Offer applicable for MDB Debit, Prepaid and Credit Cards. (2) Clubbing of this discount offer with any other offer(s) simultaneously running at the participating outlet(s) will be the sole discretion of the Merchant, (3) Cardholder should inform the outlet prior to prepare the bill to enjoy the discount. | Active | (1) 1 Monashar (1st Lane), Hajaribag, Dhaka-1012, (2) Haitrjheel,Gulshan Shooting Club Dhaka. Facebook Id: https://m.facebook.com/KruaThaibd/ | Dhaka |
| Bangladesh Specialized Hospital | Discount | Health Care & Beauty | 25% discount on all Pathological & Biochemistry investigations, 15% discount on X-ray, CT scan, MRI, Ultra- Sonogram, Echo and ETT investigations, 10% discount on bed charges while the cardholder are admitted in the hospital | (1) Offer applicable for MDB Prepaid, Debit and Credit Cards, (2) Cardholder should inform the outlet prior to prepare the bill to enjoy the discount, (3) The Patient must pay the bill by presenting his/her MDB Cards at the hospital, (4) This concession cannot be clubbed with other offers | Active | 21, Shyamoli, Mirpur Road, Dhaka-1207. Website: https://www.bdspecializedhospital.com/ | Dhaka |
| Dhaka City Physiotherapy & Rehabilitation Center | Discount | Health Care & Beauty | 15% discount on consultation fees, 20% discount on outdoor Physiotherapy treatment charge, 25% discount on Pathology report, 20% discount on other investigations except Pathology i.e. (X-Ray, MRI, ECG, USG), 15% discount on indoor (Admission + Treatment + Bed/Cabin Rent + Doctor visit) | (1) Offer applicable for MDB Prepaid, Debit and Credit Cards, (2) Cardholder should inform the outlet prior to prepare the bill to enjoy the discount, (3) The Patient must pay the bill by presenting his/her MDB Cards at the hospital, (4) This concession cannot be clubbed with other offers | Active | House-12/1, Road 4/A, Dhanmondi, Dhaka-1209. Facebook Id: https://www.facebook.com/DCPHospital/ | Dhaka |
| Labaid Limited | Discount | Health Care & Beauty | 15% discount on Pathological & Biochemistry investigations, 10% discount on X-ray, CT Scan, and MRI, Ultra-Sonogram, ECG, Echo and ETT investigations. 10% discount on bed charges while the patients are admitted in Labaid Cardiac Hospital and Labaid Specialized Hospital and Basic Health Screening Package BDT 5,000/- and Premium Health Screening Package BDT 10,000/- | (1) Offer applicable for MDB Prepaid, Debit and Credit Cards, (2) Cardholder should inform the outlet prior to prepare the bill to enjoy the discount, (3) The Patient must pay the bill by presenting his/her MDB Cards at the hospital, (4) This concession cannot be clubbed with other offers | Active | House-01, Road-04, dhanmondi, Dhaka-1205. Website: http://labaidgroup.com/ | Dhaka |
| BRB Hospital Ltd | Discount | Health Care & Beauty | 20% Discount on all Pathological Tests and 15% Discount on all Radiological Test for indoor and outdoor patient, 10% Discount on bed charge | (1) Offer applicable for MDB Prepaid, Debit and Credit Cards, (2) Cardholder should inform the outlet prior to prepare the bill to enjoy the discount, (3) The Patient must pay the bill by presenting his/her MDB Cards at the hospital, (4) This concession cannot be clubbed with other offers | Active | 77/A, East Rajabazar, Weat Panthapath, Dhaka-1215. Website: http://brbhospital.com/ | Dhaka |
| AFC Health Ltd | Discount | Health Care & Beauty | 10% discount on assessment fee & investigation at AFCH Fortis Escorts Information Centre Dhaka whereas video conference fee is absolutely free , 10% discount on OPD investigation in AFC Health Fortis Escorts Heart Institute at Khulna, Chittagong, Comilla and all upcoming AFCH branches in the country, 10% discount on IPD Beds in AFC Health Fortis Escorts Heart Institute at Khulna, Chittagong, Comilla and all upcoming AFCH branches in the country, Special Discount BDT 10,000.00 on Cardiac/Heart Surgeries | (1) Offer applicable for MDB Prepaid, Debit and Credit Cards, (2) Cardholder should inform the outlet prior to prepare the bill to enjoy the discount, (3) The Patient must pay the bill by presenting his/her MDB Cards at the hospital, (4) This concession cannot be clubbed with other offers | Active | Business Suite-1101/A (11th Floor), Rahmans Regnum center, 191/1, Tejgaon-Gulshan Link Road, Tejgaon C/A, Dhaka-1208. Website: http://www.afchealthbd.com/ | Dhaka |
| Asgar Ali Hospital | Discount | Health Care & Beauty | 20% discount on Lab investigation, Radiology & Imaging for both out-patient and in-patient, 10% Discount on Bed-charges for in-patient only, 3% Discount in Pharmacy for out-patient only (not applicable for imported medicines). | (1) Offer applicable for MDB Prepaid, Debit and Credit Cards, (2) Cardholder should inform the outlet prior to prepare the bill to enjoy the discount, (3) The Patient must pay the bill by presenting his/her MDB Cards at the hospital, (4) This concession cannot be clubbed with other offers | Active | 111/1/A, Distillery Road, Gandaria, Dhaka-1204. Website: https://www.asgaralihospital.com/ | Dhaka |
| Amarroom.com | Discount | Travel & Tour | (1) Up to 52% discount on selective hotels which available at separate landing page. (2) 15% discount on base fare for all domestic air tickets. | (1) Offer applicable for MDB Debit, Prepaid and Credit Cards. (2) Clubbing of this discount offer with any other offer(s) simultaneously running at the participating outlet(s) will be the sole discretion of the Merchant | Active | House-16, Road-30, Gulshan-1, dhaka-1212 | Dhaka |
| Manipal Hospitals | Discount | Health Care & Beauty | (1) Up to 15% discount for all MDB cardholder at total bill amount from all outlets operated in INDIA and Malaysia. | (1) Offer applicable for MDB Prepaid, Debit and Credit Cards, (2) Cardholder should inform the outlet prior to prepare the bill to enjoy the discount, (3) The Patient must pay the bill by presenting his/her MDB Cards at the hospital, (4) This concession cannot be clubbed with other offers | Active | 98/2, Rustum Bagh, Hall Airport Road, Bengaluru 560 017, India | India |
| Farazy Hospital Limited | Discount | Health Care & Beauty | For MDB Staffs & his/her Family Member: 30% Corporate discount on the published price on all pathological tests, 25% discount on all Imaging's Services & 15% discount on all Cabin Services. (In house accommodation) For MDB Cardholders: 25% Corporate discount on the published price on all pathological tests, 20% discount on all Imaging's Services & 10% discount on all Cabin Services. (In house accommodation) | (1) Offer applicable for MDB Prepaid, Debit and Credit Cards, (2) Cardholder should inform the outlet prior to prepare the bill to enjoy the discount, (3) The Patient must pay the bill by presenting his/her MDB Cards at the hospital, (4) This concession cannot be clubbed with other offers | Active | 15-19, Block-E, Main road, banasree, Rampura, dhaka-1219 | Dhaka |
| Bangladesh Eye Hospital | Discount | Health Care & Beauty | Up to 10% discount on all MDB holders at total amount from all outlets operated in bangladesh. 10% discount on investigation & 5% discount on surgery | (1) Offer applicable for MDB Prepaid, Debit and Credit Cards, (2) Cardholder should inform the outlet prior to prepare the bill to enjoy the discount, (3) The Patient must pay the bill by presenting his/her MDB Cards at the hospital, (4) This concession cannot be clubbed with other offers | Active | 78, Satmosjid Road, Road-27, Dhanmondi, Dhaka-1205 | Dhaka |
| Farazy Dental Hospital | Discount | Health Care & Beauty | 50% Corporate discount on dentist scaling, 20% discount on dentists Cap, bridge, E-Max, Danger in all function. 25% discount on implants. 30% discount on Root Canal and Fillings. 35% discount on all others tasks. | (1) Offer applicable for MDB Prepaid, Debit and Credit Cards, (2) Cardholder should inform the outlet prior to prepare the bill to enjoy the discount, (3) The Patient must pay the bill by presenting his/her MDB Cards at the hospital, (4) This concession cannot be clubbed with other offers | Active | Plot-10, Block-h, Avenue, Road-8, Banasree, Rampura, Dhaka-1219 | Dhaka |
| Easy Trax | Discount | Others | Up to 20% discount on tracking service | (1) Offer applicable for MDB Debit, Prepaid and Credit Cards. (2) Clubbing of this discount offer with any other offer(s) simultaneously running at the participating outlet(s) will be the sole discretion of the Merchant | Active | House-385 (2nd Floor), Road-06, Dhaka-1216 | Dhaka |
| Rifat's Dental Implant Leser Cosmetic Care | Discount | Health Care & Beauty | Up to 20% discount on medical service | (1) Offer applicable for MDB Debit, Prepaid and Credit Cards. (2) Clubbing of this discount offer with any other offer(s) simultaneously running at the participating outlet(s) will be the sole discretion of the Merchant | Active | 39, New Elephant Road, Kazi Bhaban (3rd Floor), Dhaka-1205 | Dhaka |
| Surecell Medical BD Limited | Discount | Health Care & Beauty | Up to 20% discount on medical service | (1) Offer applicable for MDB Debit, Prepaid and Credit Cards. (2) Clubbing of this discount offer with any other offer(s) simultaneously running at the participating outlet(s) will be the sole discretion of the Merchant | Active | Plot-2, Road-21, Gulshan-1, Dhaka-1212 | Dhaka |
| Body Balance | Discount | Health Care & Beauty | Up to 20% discount on GYM service | (1) Offer applicable for MDB Debit, Prepaid and Credit Cards. (2) Clubbing of this discount offer with any other offer(s) simultaneously running at the participating outlet(s) will be the sole discretion of the Merchant | Active | Plot-2, Road-21, Gulshan-1, Dhaka-1212 | Dhaka |
| Water Garden Resort and Spa | Discount | Hotel & Resorts | Up to 65% discount on published room rent (weekend day), Up to 55% discount on published room rent (week day) | (1) Offer applicable for MDB Debit, Prepaid and Credit Cards. (2) Clubbing of this discount offer with any other offer(s) simultaneously running at the participating outlet(s) will be the sole discretion of the Merchant | Active | Dapnajore, Basail Upazela, Korotiapara Baipas, Tangail. | Tangail |
| The Barber's Station | Discount | Health Care & Beauty | 15% discount on all services (applicable for minimum amount 5000), 10% discount on all services (applicable for minimum amount 3000) | (1) Offer applicable for MDB Debit, Prepaid and Credit Cards. (2) Clubbing of this discount offer with any other offer(s) simultaneously running at the participating outlet(s) will be the sole discretion of the Merchant | Active | RM center, 3rd Floor, 101 Gulshan Avenue, Dhaka-1212 | Dhaka |
| Sandiwp Jewellers | Discount | Fashion & Life Style | Up to 50% discount on jewellers making charge (Gold), 35% discount on diamond jewellers | (1) Offer applicable for MDB Debit, Prepaid and Credit Cards. (2) Clubbing of this discount offer with any other offer(s) simultaneously running at the participating outlet(s) will be the sole discretion of the Merchant | Active | 227, Aktaruzzaman center, 2nd Floor, Agrabad, Chattagram | Chattagram |
| Hammer Strength | Discount | Health Care & Beauty | Up to 30% discount on purchase their products. | (1) Offer applicable for MDB Debit, Prepaid and Credit Cards. (2) Clubbing of this discount offer with any other offer(s) simultaneously running at the participating outlet(s) will be the sole discretion of the Merchant | Active | Hammer Strength, EVE's Centre (1st Floor) A 1/47 P, East Nasirabad, Panchaish, Chittagong | Dhaka |
| Sandiwp Grihini Jewellers | Discount | Fashion & Life Style | Up to 50% discount on jewellers making charge (Gold), 35% discount on diamond jewellers | (1) Offer applicable for MDB Debit, Prepaid and Credit Cards. (2) Clubbing of this discount offer with any other offer(s) simultaneously running at the participating outlet(s) will be the sole discretion of the Merchant | Active | 445, Singapur bangkok market, 4th Floor, Agrabad, C/A, Chattagram | Chattagram |
| Everbest Retails Limited (Little India) | Discount | Dining | 10% discount at total bill amount (except grocery products) from all operated in bangladesh) | (1) Offer applicable for MDB Debit, Prepaid and Credit Cards. (2) Clubbing of this discount offer with any other offer(s) simultaneously running at the participating outlet(s) will be the sole discretion of the Merchant | Active | R M Center (2nd Floor), 101 Gulshan Avenue, Plot-05, Road-37, Dhaka-1212 | Dhaka |
| Invent Crafts | Discount | Furniture | Up to 20% discount for all MDB Cardholders at total bill amount from all outlets operated in bangladesh. | (1) Offer applicable for MDB Debit, Prepaid and Credit Cards. (2) Clubbing of this discount offer with any other offer(s) simultaneously running at the participating outlet(s) will be the sole discretion of the Merchant | Active | 199/1/KA, Old Kachukhet, Kafrul, Dhaka-1206 | Dhaka |
| Mermaid Eco Tourism Ltd. (Mermaid Eco Resort) | Discount | Hotel & Resorts | 40% discount at Mermaid Eco Resort , Cox's Bazar (on accommodation only with Buffet breakfast) | (1) Offer applicable for MDB Debit, Prepaid and Credit Cards. (2) Clubbing of this discount offer with any other offer(s) simultaneously running at the participating outlet(s) will be the sole discretion of the Merchant | Active | Holding No.-60, Ward No.-09, Marine drive Road, Pechar Dwip, Rabeta, Ramu, Cox's Bazar-4730 | Coxs Bazar |
| Mermaid Eco Tourism Ltd. (Mermaid Beach Resort) | Discount | Hotel & Resorts | 40% discount at Mermaid Beach Resort , Cox's Bazar (on accommodation only with Buffet breakfast) | (1) Offer applicable for MDB Debit, Prepaid and Credit Cards. (2) Clubbing of this discount offer with any other offer(s) simultaneously running at the participating outlet(s) will be the sole discretion of the Merchant | Active | Holding No.-60, Ward No.-09, Marine drive Road, Pechar Dwip, Rabeta, Ramu, Cox's Bazar-4730 | Coxs Bazar |
| Vassabi | Discount | Fashion & Life Style | 12% discount on garments product | (1) Offer applicable for MDB Debit, Prepaid and Credit Cards. (2) Clubbing of this discount offer with any other offer(s) simultaneously running at the participating outlet(s) will be the sole discretion of the Merchant | Active | House-CWS © 18, South Avenue, Gulshan-1, Dhaka-1212 | Dhaka |
| sara Life style | Discount | Fashion & Life Style | 10% discount on garments product | (1) Offer applicable for MDB Debit, Prepaid and Credit Cards. (2) Clubbing of this discount offer with any other offer(s) simultaneously running at the participating outlet(s) will be the sole discretion of the Merchant | Active | | Dhaka |
| Automan Ventures Limited | Discount | Others | 10% discount on tracking service. | (1) Offer applicable for MDB Debit, Prepaid and Credit Cards. (2) Clubbing of this discount offer with any other offer(s) simultaneously running at the participating outlet(s) will be the sole discretion of the Merchant | Active | Plot-42, Road-1, Block-A, Dhaka-1212 | Dhaka |
| Vroom | Discount | Others | Discount on tracking service (car-BDT-1500, Regular Price-2500, and (SUV- BDT-2500, Regular Price-4000) | (1) Offer applicable for MDB Debit, Prepaid and Credit Cards. (2) Clubbing of this discount offer with any other offer(s) simultaneously running at the participating outlet(s) will be the sole discretion of the Merchant | Active | Flat-5/A, Plot-niketon-77, Road-09, Dhaka-1212 | Dhaka |
| Amin Jewellers | Discount | Fashion & Life Style | Up to 25% discount on jewellres making charge (Gold) and 35% discount on Diamond | (1) Offer applicable for MDB Debit, Prepaid and Credit Cards. (2) Clubbing of this discount offer with any other offer(s) simultaneously running at the participating outlet(s) will be the sole discretion of the Merchant | Active | Flat-27, D C C Market, North Gulshan Circle-2, Dhaka-1212 | Dhaka |
| Arabian Grill & platter | Discount | Dining | 15% discount on total bill amount in all outlets operated in bangladesh | (1) Offer applicable for MDB Debit, Prepaid and Credit Cards. (2) Clubbing of this discount offer with any other offer(s) simultaneously running at the participating outlet(s) will be the sole discretion of the Merchant | Active | R M Center (4th Floor), 101 Gulshan Avenue, Plot-05, Road-37, Dhaka-1212 | Dhaka |
| Seven24 Family Restaurant | Discount | Dining | 20% discount MDB Employee and 10% discount MDB Cardholders at total bill amount (except Grocery Product) from all outlets operated in Bangladesh | (1) Offer applicable for MDB Debit, Prepaid and Credit Cards. (2) Clubbing of this discount offer with any other offer(s) simultaneously running at the participating outlet(s) will be the sole discretion of the Merchant | Active | 6/A, 32, Gulshan avenue, Rangs FC Square, (2nd Floor), Dhaka-1212 | Dhaka |
| Spitfire | Discount | Dining | 10% discount on all goods sold or services | (1) Offer applicable for MDB Debit, Prepaid and Credit Cards. (2) Clubbing of this discount offer with any other offer(s) simultaneously running at the participating outlet(s) will be the sole discretion of the Merchant | Active | NWF, 8, Gulshan North Avenue, Dhaka-1212. | Dhaka |
| The Holy Carb | Discount | Dining | 10% discount on bill amount for every purchase from all outlets of the holy carb | (1) Offer applicable for MDB Debit, Prepaid and Credit Cards. (2) Clubbing of this discount offer with any other offer(s) simultaneously running at the participating outlet(s) will be the sole discretion of the Merchant | Active | Crystal Palace, 22 Gulshan South Avenue , Gulshan-1, dhaka-1212 | Dhaka |
| Carina Furniture | Discount | Furniture | 10% discount on all goods sold and services | (1) Offer applicable for MDB Debit, Prepaid and Credit Cards. (2) Clubbing of this discount offer with any other offer(s) simultaneously running at the participating outlet(s) will be the sole discretion of the Merchant | Active | 287/7, Block-C, Khilgaon, Dhaka-1219 | Dhaka |
| GD Assist Limited | Discount | Health Care & Beauty | Up to 20% discount on bill amount of all services | (1) Offer applicable for MDB Debit, Prepaid and Credit Cards. (2) Clubbing of this discount offer with any other offer(s) simultaneously running at the participating outlet(s) will be the sole discretion of the Merchant | Active | Green Delta AIMS Tower, (6th Floor), 51-52, Mohakhali C/A, Bir Uttam AK khandokar Rd, Dhaka-1212 | Dhaka |
| Royal Tulip Sea Pearl Beach Resort & Spa Ltd | Discount | Hotel & Resorts | Up to 50% discount on Room rent | (1) Offer applicable for MDB Debit, Prepaid and Credit Cards. (2) Clubbing of this discount offer with any other offer(s) simultaneously running at the participating outlet(s) will be the sole discretion of the Merchant | Active | Jalipalong, Inani, Ukhia, Cox's Bazar Zila, Bangladesh | Coxs Bazar |
| Emedi Limited | Discount | Health Care & Beauty | Up to 7% discount on medicine in purchase amount | (1) Offer applicable for MDB Debit, Prepaid and Credit Cards. (2) Clubbing of this discount offer with any other offer(s) simultaneously running at the participating outlet(s) will be the sole discretion of the Merchant | Active | House 39 (1st floor), Road-05, Panchlaish R/A, Chattagram | Chattagram |
| Oasis Hospital Limited | Discount | Health Care & Beauty | 30% discount on Pathology Service, 20% discount on Radiology & Imaging, 10% discount on Service charge, 10% discount on Dental Procedure, Customize / corporate Health check-Up (Pakage Rate) | (1) Offer applicable for MDB Debit, Prepaid and Credit Cards. (2) Clubbing of this discount offer with any other offer(s) simultaneously running at the participating outlet(s) will be the sole discretion of the Merchant | Active | Subhanighat, Sylhet-3100 | Sylhet |
| Mount Adora Hospital | Discount | Health Care & Beauty | 25% discount for all kind of diagnostic test (excluding C. T & MRI), 10% discount on bed rest for hospital admitted patients. | (1) Offer applicable for MDB Debit, Prepaid and Credit Cards. (2) Clubbing of this discount offer with any other offer(s) simultaneously running at the participating outlet(s) will be the sole discretion of the Merchant | Active | Akhalia Sylhet-3000 | Sylhet |
| Grand Palace Hotel & Resorts | Discount | Hotel & Resorts | Up to 45% discount on published room tariff & banquet hall & up to 10% discount on food item. | (1) Offer applicable for MDB Debit, Prepaid and Credit Cards. (2) Clubbing of this discount offer with any other offer(s) simultaneously running at the participating outlet(s) will be the sole discretion of the Merchant | Active | Dhaka office- S. A. point, 22 Kakrail (Level-16), Dhaka-1000 | Rangpur & Sylhet |
| Omni Hotel & Motel Limited | Discount | Hotel & Resorts | Up to 60% discount on published room tariff, 20% discount on food & Bevarage at reastaurant and 10% discount on coffee shop. | (1) Offer applicable for MDB Debit, Prepaid and Credit Cards. (2) Clubbing of this discount offer with any other offer(s) simultaneously running at the participating outlet(s) will be the sole discretion of the Merchant | Active | House-42, Road-15, Block-D, Banani , Dhaka-1213 | Dhaka |
| Sheltech Holdings Limited (Platinum Grand) | Discount | Hotel & Resorts | 50% discount on published room tariff on weekend, 40% discount on published room tariff on weekdays, 15% discount on food & Bevarage (except alcoholic beverage) at terra bistro, 15% discount on food & Bevarage (except alcoholic beverage) at tribe, 50% discount on banquet for less then 100 guests (rake Rate), 100% discount on banquet for above 100 guests (rake Rate), and 40% discount on fitness center on yearly membership (Rake Rate). | (1) Offer applicable for MDB Debit, Prepaid and Credit Cards. (2) Clubbing of this discount offer with any other offer(s) simultaneously running at the participating outlet(s) will be the sole discretion of the Merchant | Active | House-52, Road-11, Block-F, Dhaka-1213 | Dhaka |
| Sheltech Holdings Limited (Platinum Residence) | Discount | Hotel & Resorts | Up to 60% discount on published room tariff, 20% discount on food & Bevarage at reastaurant and 10% discount on coffee shop. | (1) Offer applicable for MDB Debit, Prepaid and Credit Cards. (2) Clubbing of this discount offer with any other offer(s) simultaneously running at the participating outlet(s) will be the sole discretion of the Merchant | Active | 42, Road-20/C, Dhaka-1230 | Dhaka |
| Rongjoye | Discount | Fashion & Life Style | 10% discount on purchase their products. | (1) Offer applicable for MDB Debit, Prepaid and Credit Cards. (2) Clubbing of this discount offer with any other offer(s) simultaneously running at the participating outlet(s) will be the sole discretion of the Merchant | Active | Mirpur -1, Muktijodda Market, dhaka | Dhaka |
| Meghla Fashion | Discount | Fashion & Life Style | 10% discount on purchase their products. | (1) Offer applicable for MDB Debit, Prepaid and Credit Cards. (2) Clubbing of this discount offer with any other offer(s) simultaneously running at the participating outlet(s) will be the sole discretion of the Merchant | Active | Stadium road, Mirpur-2, Dhaka | Dhaka |
| Raintree Dhaka Limited | Discount | Hotel & Resorts | 50% discount on published room tariff (Rack Rate), 50% discount on Benquiet hall (Rack Rate), 20% discount on food A-la Carte Menu at Aioli reastaurant and 10% discount on La chokolatine Cafe. | (1) Offer applicable for MDB Debit, Prepaid and Credit Cards. (2) Clubbing of this discount offer with any other offer(s) simultaneously running at the participating outlet(s) will be the sole discretion of the Merchant | Active | House-49, Road-27, Block-K, Banani, Dhaka-1213 | Dhaka |
| Priyo | Discount | Fashion & Life Style | Up to 20% discount on purchase their products. | (1) Offer applicable for MDB Debit, Prepaid and Credit Cards. (2) Clubbing of this discount offer with any other offer(s) simultaneously running at the participating outlet(s) will be the sole discretion of the Merchant | Active | 26, Kamal Ataturk Avenue, Banani, Dhaka | Dhaka |
| Royal Cuisine | Discount | Dining | 10% discount on A-la carte menu. | (1) Offer applicable for MDB Debit, Prepaid and Credit Cards. (2) Clubbing of this discount offer with any other offer(s) simultaneously running at the participating outlet(s) will be the sole discretion of the Merchant | Active | H-32/D/E, Natore Tower, (14th Floor), Road-3, Sector-3, Dhaka-1230 | Dhaka |
| La Essence | Discount | Dining | 12% discount on food at Restaurant. | (1) Offer applicable for MDB Debit, Prepaid and Credit Cards. (2) Clubbing of this discount offer with any other offer(s) simultaneously running at the participating outlet(s) will be the sole discretion of the Merchant | Active | Rangs KB Squire, Dhanmondi, Dhaka-1205 | Dhaka |
| Nardy Been | Discount | Dining | 14% discount on food at Restaurant. | (1) Offer applicable for MDB Debit, Prepaid and Credit Cards. (2) Clubbing of this discount offer with any other offer(s) simultaneously running at the participating outlet(s) will be the sole discretion of the Merchant | Active | Raifel Squire, Zigatola, Dhanmondi, Dhaka | Dhaka |
| Pizza Roma | Discount | Dining | 15% discount on food at Restaurant. | (1) Offer applicable for MDB Debit, Prepaid and Credit Cards. (2) Clubbing of this discount offer with any other offer(s) simultaneously running at the participating outlet(s) will be the sole discretion of the Merchant | Active | Ahmed Tower. H-35, Bir uttam Sorok, Dhaka-1205 | Dhaka |
| Trump Café | Discount | Dining | 10% discount on food at Restaurant. | (1) Offer applicable for MDB Debit, Prepaid and Credit Cards. (2) Clubbing of this discount offer with any other offer(s) simultaneously running at the participating outlet(s) will be the sole discretion of the Merchant | Active | Plot-60, 2nd Floor, Satmosjid Road, Zigatola, Dhaka-1209 | Dhaka |
| Selfie Plater | Discount | Dining | 10% discount on food at Restaurant. | (1) Offer applicable for MDB Debit, Prepaid and Credit Cards. (2) Clubbing of this discount offer with any other offer(s) simultaneously running at the participating outlet(s) will be the sole discretion of the Merchant | Active | 67/A, Aziz Squire, Azimpur, Uttara, Dhaka-1230 | Dhaka |
| The Westin Dhaka | Discount | Hotel & Resorts | 50% discount on the rack rate on rooms ate THE WESTIN, 40% discount on the banquet hall rack rate for a group of minimum 150 People, Weekend pakage @15,000 NET per room per night from Thursdays to sundays for bangladeshi nationals only (complementary buffet breakfast for a couple at seasonal tastes restaurent, complementary high speed internet access, complementary use of westin fitness club, complementary use of westin swimming pool, late check out until 4 pm. | (1) Offer applicable for MDB Debit, Prepaid and Credit Cards. (2) Clubbing of this discount offer with any other offer(s) simultaneously running at the participating outlet(s) will be the sole discretion of the Merchant | Active | Gulshan Avenue, CWN (B) Road-45, Plot-1, Gulshan-2, Dhaka, Bangladesh | Dhaka |
| Water Garden Resort and Spa | Discount | Hotel & Resorts | Up to 65% discount on published room rent (weekend day), Up to 55% discount on published room rent (week day) | (1) Offer applicable for MDB Debit, Prepaid and Credit Cards. (2) Clubbing of this discount offer with any other offer(s) simultaneously running at the participating outlet(s) will be the sole discretion of the Merchant | Active | Dapnajore, Basail Upazela, Korotiapara Baipas, Tangail. | Tangail |
| The Barber's Station | Discount | Health Care & Beauty | 15% discount on all services (applicable for minimum amount 5000), 10% discount on all services (applicable for minimum amount 3000) | (1) Offer applicable for MDB Debit, Prepaid and Credit Cards. (2) Clubbing of this discount offer with any other offer(s) simultaneously running at the participating outlet(s) will be the sole discretion of the Merchant | Active | RM center, 3rd Floor, 101 Gulshan Avenue, Dhaka-1212 | Dhaka |
| Krishibid Tours & Traveles | Discount | Travel & Tour | Up to 10% discount on air tickets for all MDB cards at totat bill amount | (1) Offer applicable for MDB Debit, Prepaid and Credit Cards. (2) Clubbing of this discount offer with any other offer(s) simultaneously running at the participating outlet(s) will be the sole discretion of the Merchant | Active | 801, Rokeya Shoroni, Kazipara, Mirpur, Dhaka | Dhaka |
| Shinepukur Sweets | Discount | Hotel & Resorts | Up to 40% discount on Room (Rake Rate), 10% discount on food & beverages at Restaurant | (1) Offer applicable for MDB Debit, Prepaid and Credit Cards. (2) Clubbing of this discount offer with any other offer(s) simultaneously running at the participating outlet(s) will be the sole discretion of the Merchant | Active | Road n0-143, House-8 C, Gulshan-1, Dhaka | Dhaka |
| Grand Oriental | Discount | Hotel & Resorts | Up to 40% discount on Room (Rake Rate), 15% discount on food & beverages at Restaurant | (1) Offer applicable for MDB Debit, Prepaid and Credit Cards. (2) Clubbing of this discount offer with any other offer(s) simultaneously running at the participating outlet(s) will be the sole discretion of the Merchant | Active | 1/3, Road-23, dhaka | Dhaka |
| Bengal Inn | Discount | Hotel & Resorts | 50% discount on published room tariff (Rack Rate), 50% discount on Benquiet hall (Rack Rate), 20% discount on food A-la Carte Menu at Aioli reastaurant and 10% discount on La chokolatine Cafe. | (1) Offer applicable for MDB Debit, Prepaid and Credit Cards. (2) Clubbing of this discount offer with any other offer(s) simultaneously running at the participating outlet(s) will be the sole discretion of the Merchant | Active | House-7, Rd-16, Dhaka | Dhaka |
| Lakeshore Banani | Discount | Hotel & Resorts | Up to 70% discount on Room (Rake Rate), 15% discount on food & beverages at Restaurant | (1) Offer applicable for MDB Debit, Prepaid and Credit Cards. (2) Clubbing of this discount offer with any other offer(s) simultaneously running at the participating outlet(s) will be the sole discretion of the Merchant | Active | House-81, Road-13/A, Block-D, Banani, Dhaka | Dhaka |
| Habib Tazkiras Limited | Discount | Fashion & Life Style | 15% discounts on all services | (1) Offer applicable for MDB Debit, Prepaid and Credit Cards. (2) Clubbing of this discount offer with any other offer(s) simultaneously running at the participating outlet(s) will be the sole discretion of the Merchant | Active | 3rd Floor, Equity Centrium, O R Nizam Road, Near GEC Circle, Chattagram | CTG |
| Ifad Information & Technology Limited | Discount | Others | Product value-4500 to avil this facilities MDB card holder, and montly service charge 500 (Including VAT & AIT | (1) Offer applicable for MDB Debit, Prepaid and Credit Cards. (2) Clubbing of this discount offer with any other offer(s) simultaneously running at the participating outlet(s) will be the sole discretion of the Merchant | Active | 80/14/A, Myenshing Road, Sonartori Tower, Biponon C/A, Sonargaon Road, Dhaka-1000 | Dhaka |
| Tribe | Discount | Dining | 20% discount on food at Restaurant. | (1) Offer applicable for MDB Debit, Prepaid and Credit Cards. (2) Clubbing of this discount offer with any other offer(s) simultaneously running at the participating outlet(s) will be the sole discretion of the Merchant | Active | 42, Road-20/C, Dhaka-1230 | Dhaka |
| Bluelicious Restaurant | Discount | Dining | 10% discount on food at Restaurant. | (1) Offer applicable for MDB Debit, Prepaid and Credit Cards. (2) Clubbing of this discount offer with any other offer(s) simultaneously running at the participating outlet(s) will be the sole discretion of the Merchant | Active | House-1/A, Road-90, Gulshan-2, Dhaka-1212 . Website: http://www.bengalblueberry.com/ | Dhaka |
| Flavour | Discount | Dining | 10% discount on food at Restaurant. | (1) Offer applicable for MDB Prepaid, Debit and Credit Cards, (2) Prior reservation is mandatory (3) Cardholder should inform the outlet prior to prepare the bill to enjoy the discount, (4) Cardholder must pay the bill by presenting his/her MDB Cards at the outlet | Active | Plot-8, Road-16A, Gulshan-1, Dhaka-1212. Website: http://www.hotelcanarypark.com/ | Dhaka |
| Cascade Lounge | Discount | Dining | 10% discount on food at Restaurant. | (1) Offer applicable for MDB Credit Cards, (2) Prior reservation is mandatory (3) Cardholder should inform the outlet prior to prepare the bill to enjoy the discount, (4) Cardholder must pay the bill by presenting his/her MDB Cards at the outlet, (5) Clubbing of this discount offer with any other offer(s) simultaneously running at the participating outlet(s) will be the sole discretion of the merchant | Active | House-47, Road-41, Gulshan-2, Dhaka-1212. Website: https://www.amari.com/dhaka/ | Dhaka |
| Binte | Discount | Fashion & Life Style | 10% discount on purchase their products. | (1) Offer applicable for MDB Debit, Prepaid and Credit Cards. (2) Clubbing of this discount offer with any other offer(s) simultaneously running at the participating outlet(s) will be the sole discretion of the Merchant | Active | Stadium road, Mirpur-2, Dhaka | Dhaka |
| Curry Leaf | Discount | Dining | 10% discount on food at Restaurant. | (1) Offer applicable for MDB Credit Cards, (2) Prior reservation is mandatory (3) Cardholder should inform the outlet prior to prepare the bill to enjoy the discount, (4) This concession is not valid for long weekend, EID, Puja week and 31st night. | Active | 28-29 Hotel Motel Zone, Kolatoli Road, Coxs Bazar. Website: http://www.oceanparadisehotel.com/ | Coxs Bazar |
| Omni Reastaurant | Discount | Dining | 10% discount on food at Restaurant. | (1) Offer applicable for MDB Debit, Prepaid and Credit Cards. (2) Clubbing of this discount offer with any other offer(s) simultaneously running at the participating outlet(s) will be the sole discretion of the Merchant | Active | House-42, Road-15, Block-D, Banani , Dhaka-1213 | Dhaka |
| Aiolo Restaurant | Discount | Dining | 20% discount on food A-la Carte Menu at Aioli reastauran | (1) Offer applicable for MDB Debit, Prepaid and Credit Cards. (2) Clubbing of this discount offer with any other offer(s) simultaneously running at the participating outlet(s) will be the sole discretion of the Merchant | Active | House-49, Road-27, Block-K, Banani, Dhaka-1213 | Dhaka |
| Roof Top | Discount | Dining | 15% discount on food & beverages at Restaurant | (1) Offer applicable for MDB Debit, Prepaid and Credit Cards. (2) Clubbing of this discount offer with any other offer(s) simultaneously running at the participating outlet(s) will be the sole discretion of the Merchant | Active | House-81, Road-13/A, Block-D, Banani, Dhaka | Dhaka |
| Binte | Discount | Fashion & Life Style | 10% discount on purchase their products. | (1) Offer applicable for MDB Debit, Prepaid and Credit Cards. (2) Clubbing of this discount offer with any other offer(s) simultaneously running at the participating outlet(s) will be the sole discretion of the Merchant | Active | Stadium road, Mirpur-2, Dhaka | Dhaka |
| Jastel | Discount | Mobile Shop | 10% discount on purchase their Mobile Accessories products. | (1) Offer applicable for MDB Debit, Prepaid and Credit Cards. (2) Clubbing of this discount offer with any other offer(s) simultaneously running at the participating outlet(s) will be the sole discretion of the Merchant | Active | Ground Floor, Rongdhonu market, Mirpur-12, Dhaka | Dhaka |
| Envoy | Discount | Fashion & Life Style | 10% discount on purchase their products. | (1) Offer applicable for MDB Debit, Prepaid and Credit Cards. (2) Clubbing of this discount offer with any other offer(s) simultaneously running at the participating outlet(s) will be the sole discretion of the Merchant | Active | Forth Floor, Rongdhonu market, Mirpur-12, Dhaka | Dhaka |
| Somotor Homoeo Medicare | Discount | Health Care & Beauty | 10% discount on purchase their products & Doctor Visit. | (1) Offer applicable for MDB Debit, Prepaid and Credit Cards. (2) Clubbing of this discount offer with any other offer(s) simultaneously running at the participating outlet(s) will be the sole discretion of the Merchant | Active | Plot-9, Shop No-138, Mirpur-1, Dhaka | Dhaka |
| Shohel Enterprise | Discount | Mobile Shop | 10% discount on purchase their Mobile Accessories products. | (1) Offer applicable for MDB Debit, Prepaid and Credit Cards. (2) Clubbing of this discount offer with any other offer(s) simultaneously running at the participating outlet(s) will be the sole discretion of the Merchant | Active | Plot-9, 3rd Floor, Mirpur-1, Dhaka | Dhaka |
| Blue Licious | Discount | Hotel & Resorts | 10% discount on the Blue Licious restaurant | (1) Offer applicable for MDB Prepaid, Debit and Credit Cards, (2) Prior reservation is mandatory (3) Cardholder should inform the outlet prior to prepare the bill to enjoy the discount. | Active | House-1/A, Road-90, Gulshan-2, Dhaka-1212 . Website: http://www.bengalblueberry.com/ | Dhaka |
| Aichi Telecom | Discount | Mobile Shop | 10% discount on purchase their Mobile Accessories products. | (1) Offer applicable for MDB Prepaid, Debit and Credit Cards, (2) Prior reservation is mandatory (3) Cardholder should inform the outlet prior to prepare the bill to enjoy the discount. | Active | Shop-1, Asha Plaza, Mirpur-1, dhaka | Dhaka |
| Mobile Touch-1 | Discount | Mobile Shop | 10% discount on purchase their Mobile Accessories products. | (1) Offer applicable for MDB Prepaid, Debit and Credit Cards, (2) Prior reservation is mandatory (3) Cardholder should inform the outlet prior to prepare the bill to enjoy the discount. | Active | Shop-13-14, Asha Plaza, Mirpur-1, dhaka | Dhaka |
| Mobile Touch-2 | Discount | Mobile Shop | 10% discount on purchase their Mobile Accessories products. | (1) Offer applicable for MDB Prepaid, Debit and Credit Cards, (2) Prior reservation is mandatory (3) Cardholder should inform the outlet prior to prepare the bill to enjoy the discount. | Active | Ground floor, Mirpur-10, dhaka | Dhaka |
| ITS Holidays | Discount | Travel & Tour | Up to 10% discount on air tickets for all MDB cards at totat bill amount | (1) Offer applicable for MDB Prepaid, Debit and Credit Cards, (2) Prior reservation is mandatory (3) Cardholder should inform the outlet prior to prepare the bill to enjoy the discount. | Active | Punashi Villa, Flat 4/A, Level-4, House-150, Block-E, road-10, Banani | Dhaka |
| Grace 21 | Discount | Hotel & Resorts | Up to 40% discount on Room (Rake Rate), 10% discount on food & beverages at Restaurant | (1) Offer applicable for MDB Debit, Prepaid and Credit Cards. (2) Clubbing of this discount offer with any other offer(s) simultaneously running at the participating outlet(s) will be the sole discretion of the Merchant | Active | House-81, Road-13/A, Block-D, Banani, Dhaka | Dhaka |
| Irani Borkha Bazar Ltd | Discount | Fashion & Life Style | 10% discount on purchase their products of all outlets. | (1) Offer applicable for MDB Debit, Prepaid and Credit Cards. (2) Clubbing of this discount offer with any other offer(s) simultaneously running at the participating outlet(s) will be the sole discretion of the Merchant | Active | House-15/A, R-3, Dhanmondi-1205 | Dhaka |
| Six Life Style | Discount | Fashion & Life Style | 10% discount on purchase their products of all outlets. | (1) Offer applicable for MDB Debit, Prepaid and Credit Cards. (2) Clubbing of this discount offer with any other offer(s) simultaneously running at the participating outlet(s) will be the sole discretion of the Merchant | Active | House-15/A, R-3, Dhanmondi-1205 | Dhaka |
| Designer | Discount | Fashion & Life Style | 10% discount on purchase their products of all outlets. | (1) Offer applicable for MDB Debit, Prepaid and Credit Cards. (2) Clubbing of this discount offer with any other offer(s) simultaneously running at the participating outlet(s) will be the sole discretion of the Merchant | Active | House-15/A, R-3, Dhanmondi-1205 | Dhaka |
| Indian Spicy Chicken | Discount | Dining | 10% Discount on only food Item | (1) Offer applicable for MDB Debit, Prepaid and Credit Cards. (2) Clubbing of this discount offer with any other offer(s) simultaneously running at the participating outlet(s) will be the sole discretion of the Merchant | Active | House-31/1, progoti SaraniRoad, Shahajadpur, Gulshan , Dhaka | Dhaka |
| Kakra | Discount | Fashion & Life Style | 10% discount on purchase their products of all outlets. | (1) Offer applicable for MDB Debit, Prepaid and Credit Cards. (2) Clubbing of this discount offer with any other offer(s) simultaneously running at the participating outlet(s) will be the sole discretion of the Merchant | Active | Talbug, Thana Road, Savar, Dhaka | Dhaka |
| Selai Ghar | Discount | Fashion & Life Style | 10% discount on purchase their products of all outlets. | (1) Offer applicable for MDB Debit, Prepaid and Credit Cards. (2) Clubbing of this discount offer with any other offer(s) simultaneously running at the participating outlet(s) will be the sole discretion of the Merchant | Active | Basundhara City, Level-2, Block-A, Dhaka | Dhaka |
| Arnim Holidays | Discount | Travel & Tour | Up to 10% discount on air tickets for all MDB cards at totat bill amount | (1) Offer applicable for MDB Prepaid, Debit and Credit Cards, (2) Prior reservation is mandatory (3) Cardholder should inform the outlet prior to prepare the bill to enjoy the discount. | Active | 55, Purana Paltan, Azad Center, Level-4, Suite-4/A, Dhaka | Dhaka |
| Biman Holidays | Discount | Travel & Tour | 10% discount on base fares for economy and business class in case of all domestic and international routes when tickets will be booked through bimanholidays.com round the year, 20% discount on base fares for all business class during promotional period offered by Bangladesh Biman | (1) Offer applicable for MDB Prepaid, Debit and Credit Cards, (2) Cardholder shall be allowed to buy a maximum 4 tickets at a time, (3) Discount is not applicable on infant ticket, (4) Domestic base fare will be minimum BDT 2,500 for one way and BDT 5,000 for return ticket, (5) Clubbing of this discount offer with any other offer(s) simultaneously running at Biman Bangladesh Airlines will be the sole discretion of the Biman Holidays and Biman Sales Outlet(s), (6) Cardholder must use Promo Code " BGMDB10" to get 10% discount and Promo Code "BGMDB20" to get 20% discount. | Active | Balaka, Kurmitola, Dhaka-1229. Website: https://www.bimanholidays.com/ | Dhaka |
| Buy Ticets | Discount | Travel & Tour | Up to 7% discount on air tickets for all MDB cards at totat bill amount | (1) Offer applicable for MDB Prepaid, Debit and Credit Cards, (2) Cardholder shall be allowed to buy a maximum 4 tickets at a time, (3) Discount is not applicable on infant ticket, (4) Domestic base fare will be minimum BDT 2,500 for one way and BDT 5,000 for return ticket, (5) Clubbing of this discount offer with any other offer(s) simultaneously running at Biman Bangladesh Airlines will be the sole discretion of the Biman Holidays and Biman Sales Outlet(s), (6) Cardholder must use Promo Code " BGMDB10" to get 10% discount and Promo Code "BGMDB20" to get 20% discount. | Active | City Heart, 67, Naya Paltan, Dhaka-1000 | Dhaka |
| Great India | Discount | Dining | Up to 10% discount on Food Item | (1) Offer applicable for MDB Debit, Prepaid and Credit Cards. (2) Clubbing of this discount offer with any other offer(s) simultaneously running at the participating outlet(s) will be the sole discretion of the Merchant | Active | Jashimuddin Road, Sector-3, Uttara, Dhaka | Dhaka |
| Green Fork Reastaurant | Discount | Dining | Up to 10% discount on Food Item | (1) Offer applicable for MDB Debit, Prepaid and Credit Cards. (2) Clubbing of this discount offer with any other offer(s) simultaneously running at the participating outlet(s) will be the sole discretion of the Merchant | Active | 65, Sector-3, Uttara, Dhaka | Dhaka |
| Upohar Bangla | Discount | Fashion & Life Style | Up to 10% discount on Food Item | (1) Offer applicable for MDB Prepaid, Debit and Credit Cards, (2) Cardholder shall be allowed to buy a maximum 4 tickets at a time, (3) Discount is not applicable on infant ticket, (4) Domestic base fare will be minimum BDT 2,500 for one way and BDT 5,000 for return ticket, (5) Clubbing of this discount offer with any other offer(s) simultaneously running at Biman Bangladesh Airlines will be the sole discretion of the Biman Holidays and Biman Sales Outlet(s), (6) Cardholder must use Promo Code " BGMDB10" to get 10% discount and Promo Code "BGMDB20" to get 20% discount. | Active | Sajmoshjid Road, dhanmondi, dhaka | Dhaka |
| Dhaka rosarium | Discount | Fashion & Life Style | Up to 10% discount on Food Item | (1) Offer applicable for MDB Debit, Prepaid and Credit Cards. (2) Clubbing of this discount offer with any other offer(s) simultaneously running at the participating outlet(s) will be the sole discretion of the Merchant | Active | 1/A, Abdullahpur, Uttara, Dhaka | Dhaka |
| Café Central Jail | Discount | Dining | Up to 12% discount on Food Item | (1) Offer applicable for MDB Prepaid, Debit and Credit Cards, (2) Cardholder shall be allowed to buy a maximum 4 tickets at a time, (3) Discount is not applicable on infant ticket, (4) Domestic base fare will be minimum BDT 2,500 for one way and BDT 5,000 for return ticket, (5) Clubbing of this discount offer with any other offer(s) simultaneously running at Biman Bangladesh Airlines will be the sole discretion of the Biman Holidays and Biman Sales Outlet(s), (6) Cardholder must use Promo Code " BGMDB10" to get 10% discount and Promo Code "BGMDB20" to get 20% discount. | Active | Plot-6, Road-2, Sector-3, Jashim Uddin Avenue, Uttara, Dhaka-1230 | Dhaka |
| Zabeer Hotel International | Discount | Hotel & Resorts | 50% discount on rooms from (rake Rate), 10% discount on foods at restaurant (Except Beverage), 10% discount on Coffee shop (Café 24) | (1) Offer applicable for MDB Debit, Prepaid and Credit Cards. (2) Clubbing of this discount offer with any other offer(s) simultaneously running at the participating outlet(s) will be the sole discretion of the Merchant | Active | (Dhaka Office)-House-B169 (1st Floor), Road-23, Mohakhali DOHS, Dhaka-1206 | Jessore |
| Dhaka Regency Hotel & Resort | Discount | Hotel & Resorts | 40% discount on accommodation, 25% discount on DR fitness (Heath Club) on yearly membership | (1) Offer applicable for MDB Debit, Prepaid and Credit Cards. (2) Clubbing of this discount offer with any other offer(s) simultaneously running at the participating outlet(s) will be the sole discretion of the Merchant | Active | Airport Road, Nikunja 2, Dhaka-1229 | Dhaka |
| Red Origin | Discount | Fashion & Life Style | Up to 10% discount on all product | (1) Offer applicable for MDB Debit, Prepaid and Credit Cards. (2) Clubbing of this discount offer with any other offer(s) simultaneously running at the participating outlet(s) will be the sole discretion of the Merchant | Active | | Dhaka |
| Evercare Hospital Dhaka | Discount | Health Care & Beauty | 5% discount on services | Avail only MDB all stafs | Active | Level-1, House No-346A & 347, Road No- 12, Block-D, Bashundhara R/A, Dhaka-1229 | Dhaka |
| Dakter Bondhu Ltd | Discount | Health Care & Beauty | 7% discount on services | (1) Offer applicable for MDB Debit, Prepaid and Credit Cards. (2) Clubbing of this discount offer with any other offer(s) simultaneously running at the participating outlet(s) will be the sole discretion of the Merchant | Active | | Dhaka |
| Business Machine & Equipments | Discount | Electronics | Up to 10% discount on selective product services | (1) Offer applicable for MDB Debit, Prepaid and Credit Cards. (2) Clubbing of this discount offer with any other offer(s) simultaneously running at the participating outlet(s) will be the sole discretion of the Merchant | Active | 10 Taher Tower, 2nd Floor, Gulshan-2, dhaka-1212 | Dhaka |
| The South Asian Tourism | Discount | Travel & Tour | Up to 10% discount on domestic air ticket & 5% discount on tourism service | (1) Offer applicable for MDB Debit, Prepaid and Credit Cards. (2) Clubbing of this discount offer with any other offer(s) simultaneously running at the participating outlet(s) will be the sole discretion of the Merchant | Active | House-227-228, Pubali Market, Seroil Bus Stand, Rajshahi-6100 | Rajshahi |
| Stygen | Discount | Travel & Tour | Up to 10% discount on all product | (1) Offer applicable for MDB Debit, Prepaid and Credit Cards. (2) Clubbing of this discount offer with any other offer(s) simultaneously running at the participating outlet(s) will be the sole discretion of the Merchant | Active | H-65, R-3, B-B, Niketon, Gulshan-1 | Dhaka |
| Livewere BD Limited | Discount | e-Commerce Shop | Up to 12% discount on all product | (1) Offer applicable for MDB Debit, Prepaid and Credit Cards. (2) Clubbing of this discount offer with any other offer(s) simultaneously running at the participating outlet(s) will be the sole discretion of the Merchant | Active | 36, Delta Dahlia Tower, Kamal Ataturk Avenue, Banani | Dhaka |
| Japan Friendship Hospital | Discount | Health Care & Beauty | Up to 40% discount on outdoor patients (OPD) and up to 30% discount on indoor patients (IPD) | (1) Offer applicable for MDB Debit, Prepaid and Credit Cards. (2) Clubbing of this discount offer with any other offer(s) simultaneously running at the participating outlet(s) will be the sole discretion of the Merchant | Active | 55, satmoshjid road (Zigatola Bus Stand) Dhaka | Dhaka |
| Ezaz Gallery | Discount | Fashion & Life Style | Up to 15% discount on cloths | (1) Offer applicable for MDB Debit, Prepaid and Credit Cards. (2) Clubbing of this discount offer with any other offer(s) simultaneously running at the participating outlet(s) will be the sole discretion of the Merchant | Active | 39, probal Housing , Ring Road, Adabar, Mohammadpur, Dhaka | Dhaka |
| Comfort Diagnostic Centre | Discount | Health Care & Beauty | Flat 25% discount on medical service | (1) Offer applicable for MDB Debit, Prepaid and Credit Cards. (2) Clubbing of this discount offer with any other offer(s) simultaneously running at the participating outlet(s) will be the sole discretion of the Merchant | Active | 22, Rabindra Sarani, Sec-7, Uttara, Dhaka-1230 | Dhaka |
| Ibn Sina Trust | Discount | Health Care & Beauty | Up to 35% discount all unit of Ibn Cina Trust | (1) Offer applicable for MDB Debit, Prepaid and Credit Cards. (2) Clubbing of this discount offer with any other offer(s) simultaneously running at the participating outlet(s) will be the sole discretion of the Merchant | Active | House-48, Road-9/A, Dhanmondi, Dhaka-1209 | Dhaka |
| Anwar Khan Modern Hospital Limited | Discount | Health Care & Beauty | Up to 25% discount on medical service | (1) Offer applicable for MDB Debit, Prepaid and Credit Cards. (2) Clubbing of this discount offer with any other offer(s) simultaneously running at the participating outlet(s) will be the sole discretion of the Merchant | Active | House-17, Road-8, Dhanmondi, Dhaka-1205 | Dhaka |
| City Hospital Limited | Discount | Health Care & Beauty | Up to 25% discount on medical service | (1) Offer applicable for MDB Debit, Prepaid and Credit Cards. (2) Clubbing of this discount offer with any other offer(s) simultaneously running at the participating outlet(s) will be the sole discretion of the Merchant | Active | 1/8, Block-E, Lalmatia, Satmoshjid Road, Dhaka-1207 | Dhaka |
| Lageks | Discount | Fashion & Life Style | 10% discount on garments product | (1) Offer applicable for MDB Debit, Prepaid and Credit Cards. (2) Clubbing of this discount offer with any other offer(s) simultaneously running at the participating outlet(s) will be the sole discretion of the Merchant | Active | Zmzam TowerLevel-4, Sector-13, Uttara, Dhaka | Dhaka |
| Dalim's | Discount | Fashion & Life Style | Up to 15% discount on cloths | (1) Offer applicable for MDB Debit, Prepaid and Credit Cards. (2) Clubbing of this discount offer with any other offer(s) simultaneously running at the participating outlet(s) will be the sole discretion of the Merchant | Active | Sho-50, Pink City, Gulshan-2, Dhaka | Dhaka |
| B. C Sen Jewellers | Discount | Fashion & Life Style | Up to 40% discount (40% discount on gold making charge & 25% discount oin diamond jewellers) | (1) Offer applicable for MDB Debit, Prepaid and Credit Cards. (2) Clubbing of this discount offer with any other offer(s) simultaneously running at the participating outlet(s) will be the sole discretion of the Merchant | Active | Pink City, Floor- 2, Gulshan-2, Dhaka | Dhaka |
| Queen Pearle House | Discount | Fashion & Life Style | Up to 40% discount (40% discount on gold making charge & 25% discount oin diamond jewellers) | (1) Offer applicable for MDB Debit, Prepaid and Credit Cards. (2) Clubbing of this discount offer with any other offer(s) simultaneously running at the participating outlet(s) will be the sole discretion of the Merchant | Active | Pink City, Floor- 2, Gulshan-2, Dhaka | Dhaka |
| Asmi Jewellers | Discount | Fashion & Life Style | Up to 40% discount (40% discount on gold making charge & 25% discount oin diamond jewellers) | (1) Offer applicable for MDB Debit, Prepaid and Credit Cards. (2) Clubbing of this discount offer with any other offer(s) simultaneously running at the participating outlet(s) will be the sole discretion of the Merchant | Active | Plot-15, Road-103, Gulshan-2, Dhaka | Dhaka |
| Nakshatra Gold | Discount | Fashion & Life Style | Up to 40% discount (40% discount on gold making charge & 30% discount oin diamond jewellers) | (1) Offer applicable for MDB Debit, Prepaid and Credit Cards. (2) Clubbing of this discount offer with any other offer(s) simultaneously running at the participating outlet(s) will be the sole discretion of the Merchant | Active | Shop-C/3, Pink City, Gulshan-2, Dhaka | Dhaka |
| A.R Collection | Discount | Fashion & Life Style | Up to 15% discount on cloths | (1) Offer applicable for MDB Debit, Prepaid and Credit Cards. (2) Clubbing of this discount offer with any other offer(s) simultaneously running at the participating outlet(s) will be the sole discretion of the Merchant | Active | , Floor-2Gulshan Pink City, Gulshan-2, Dhaka | Dhaka |
| Rejia Boutique | Discount | Fashion & Life Style | Up to 15% discount on cloths | (1) Offer applicable for MDB Debit, Prepaid and Credit Cards. (2) Clubbing of this discount offer with any other offer(s) simultaneously running at the participating outlet(s) will be the sole discretion of the Merchant | Active | Floor-3, Gulshan Pink City, Gulshan-2, Dhaka | Dhaka |
| Anjali Gold | Discount | Fashion & Life Style | Up to 35% discount (35% discount on gold making charge & 30% discount oin diamond jewellers) | (1) Offer applicable for MDB Debit, Prepaid and Credit Cards. (2) Clubbing of this discount offer with any other offer(s) simultaneously running at the participating outlet(s) will be the sole discretion of the Merchant | Active | Shop-4/B, Pink City, Gulshan-2, Dhaka | Dhaka |
| Barberia Salon & Spa | Discount | Fashion & Life Style | Up to 20% discount on spa & hair service | (1) Offer applicable for MDB Debit, Prepaid and Credit Cards. (2) Clubbing of this discount offer with any other offer(s) simultaneously running at the participating outlet(s) will be the sole discretion of the Merchant | Active | 6th floor, Pink City, Gulshan-2, Dhaka | Dhaka |
| Men's Klub Salon | Discount | Fashion & Life Style | Up to 20% discount on spa & hair service | (1) Offer applicable for MDB Debit, Prepaid and Credit Cards. (2) Clubbing of this discount offer with any other offer(s) simultaneously running at the participating outlet(s) will be the sole discretion of the Merchant | Active | 6th floor, Pink City, Gulshan-2, Dhaka | Dhaka |
| Wool | Discount | Fashion & Life Style | Up to 25% discount on cloths | (1) Offer applicable for MDB Debit, Prepaid and Credit Cards. (2) Clubbing of this discount offer with any other offer(s) simultaneously running at the participating outlet(s) will be the sole discretion of the Merchant | Active | Police Plza 2nd Floor, Concord Tower, Gulshan-1, Dhaka | Dhaka |
| Zannat Express | Discount | Fashion & Life Style | Up to 25% discount on cloths | (1) Offer applicable for MDB Debit, Prepaid and Credit Cards. (2) Clubbing of this discount offer with any other offer(s) simultaneously running at the participating outlet(s) will be the sole discretion of the Merchant | Active | Police Plza 2nd Floor, Concord Tower, Gulshan-1, Dhaka | Dhaka |
| Fashion World | Discount | Fashion & Life Style | Up to 20% discount on cloths | (1) Offer applicable for MDB Debit, Prepaid and Credit Cards. (2) Clubbing of this discount offer with any other offer(s) simultaneously running at the participating outlet(s) will be the sole discretion of the Merchant | Active | Police Plza, Shop-270, Concord Tower, Gulshan-1, Dhaka | Dhaka |
| Somoy Jewellers | Discount | Fashion & Life Style | Up to 50% discount (50% discount on gold making charge & 30% discount oin diamond jewellers) | (1) Offer applicable for MDB Debit, Prepaid and Credit Cards. (2) Clubbing of this discount offer with any other offer(s) simultaneously running at the participating outlet(s) will be the sole discretion of the Merchant | Active | Police Plza, Shop-377-378, Concord Tower, Gulshan-1, Dhaka | Dhaka |
| Zaara Fashion Mall Limited | Discount | Fashion & Life Style | Up to 15% discount on cloths | (1) Offer applicable for MDB Debit, Prepaid and Credit Cards. (2) Clubbing of this discount offer with any other offer(s) simultaneously running at the participating outlet(s) will be the sole discretion of the Merchant | Active | H-7, R-14, Gulshan-1, Dhaka | Dhaka |
| Fashion Maker | Discount | Fashion & Life Style | Up to 15% discount on cloths | (1) Offer applicable for MDB Debit, Prepaid and Credit Cards. (2) Clubbing of this discount offer with any other offer(s) simultaneously running at the participating outlet(s) will be the sole discretion of the Merchant | Active | B-20, Polwel Market, Naya Paltan, Dhaka | Dhaka |
| Hotplate | Discount | Dining | 10% discount on Dining (Except drings item) | (1) Offer applicable for MDB Debit, Prepaid and Credit Cards. (2) Clubbing of this discount offer with any other offer(s) simultaneously running at the participating outlet(s) will be the sole discretion of the Merchant | Active | H-6, Road-Lake Drive, Sector-7, Uttara, Dhaka | Dhaka |
| Pushpo Creative | Discount | Fashion & Life Style | Up to 10% discount on Flower | (1) Offer applicable for MDB Debit, Prepaid and Credit Cards. (2) Clubbing of this discount offer with any other offer(s) simultaneously running at the participating outlet(s) will be the sole discretion of the Merchant | Active | House-7, Road-127, Gulshan-1, Dhaka | Dhaka |
| Master Chef | Discount | Dining | 10% discount on Dining (Except drings item) | (1) Offer applicable for MDB Debit, Prepaid and Credit Cards. (2) Clubbing of this discount offer with any other offer(s) simultaneously running at the participating outlet(s) will be the sole discretion of the Merchant | Active | H-6, Road-Lake Drive, Sector-7, Uttara, Dhaka | Dhaka |
| Nabila Enterprise | Discount | Fashion & Life Style | Up to 15% discount on cloths | (1) Offer applicable for MDB Debit, Prepaid and Credit Cards. (2) Clubbing of this discount offer with any other offer(s) simultaneously running at the participating outlet(s) will be the sole discretion of the Merchant | Active | B-24, Polwel Market, 69/2, Naya Paltan, Dhaka | Dhaka |
| ID Traders | Discount | Fashion & Life Style | Up to 15% discount on all kind of shooes | (1) Offer applicable for MDB Debit, Prepaid and Credit Cards. (2) Clubbing of this discount offer with any other offer(s) simultaneously running at the participating outlet(s) will be the sole discretion of the Merchant | Active | CF/A-13, Polwel Market, 69/2, Naya Paltan, Dhaka | Dhaka |
| Kid's Club | Discount | Fashion & Life Style | 10% discount on cloths | (1) Offer applicable for MDB Debit, Prepaid and Credit Cards. (2) Clubbing of this discount offer with any other offer(s) simultaneously running at the participating outlet(s) will be the sole discretion of the Merchant | Active | 29/30, Polwel Market, 69/2, Naya Paltan, Dhaka | Dhaka |
| Men's Club | Discount | Fashion & Life Style | 10% discount on cloths | (1) Offer applicable for MDB Debit, Prepaid and Credit Cards. (2) Clubbing of this discount offer with any other offer(s) simultaneously running at the participating outlet(s) will be the sole discretion of the Merchant | Active | CF/A-12, Polwel Market, 69/2, Naya Paltan, Dhaka | Dhaka |
| Brand House | Discount | Fashion & Life Style | 10% discount on cloths | (1) Offer applicable for MDB Debit, Prepaid and Credit Cards. (2) Clubbing of this discount offer with any other offer(s) simultaneously running at the participating outlet(s) will be the sole discretion of the Merchant | Active | Shop-1/36 & 37, Polwel Market, 69/2, Naya Paltan, Dhaka | Dhaka |
| Imran Enterprise | Discount | Fashion & Life Style | Up to 10% discount on cloths | (1) Offer applicable for MDB Debit, Prepaid and Credit Cards. (2) Clubbing of this discount offer with any other offer(s) simultaneously running at the participating outlet(s) will be the sole discretion of the Merchant | Active | 1F/8, Polwel Market, 69/2, Naya Paltan, Dhaka | Dhaka |
| Air Voice | Discount | Mobile Shop | Up to 10% discount on Selective Product (Mobile Accessories) | (1) Offer applicable for MDB Debit, Prepaid and Credit Cards. (2) Clubbing of this discount offer with any other offer(s) simultaneously running at the participating outlet(s) will be the sole discretion of the Merchant | Active | Zamzam Tower, Shop-7/6, Level-6, Section-12, Uttara, Dhaka | Dhaka |
| Sena Watch | Discount | Electronics | Up to 10% discount on Selective Product (Watch) | (1) Offer applicable for MDB Debit, Prepaid and Credit Cards. (2) Clubbing of this discount offer with any other offer(s) simultaneously running at the participating outlet(s) will be the sole discretion of the Merchant | Active | Zamzam Tower, Shop-23,24, Level-1, Section-13, Uttara, Dhaka | Dhaka |
| Ezzy Enterprise | Discount | Mobile Shop | Up to 10% discount on Selective Product (Mobile Accessories) | (1) Offer applicable for MDB Debit, Prepaid and Credit Cards. (2) Clubbing of this discount offer with any other offer(s) simultaneously running at the participating outlet(s) will be the sole discretion of the Merchant | Active | Zamzam Tower, Shop-706, Level-6, Section-13, Uttara, Dhaka | Dhaka |
| D'Damas | Discount | Fashion & Life Style | Up to 40% discount (40% discount on gold making charge & 25% discount oin diamond jewellers) | (1) Offer applicable for MDB Debit, Prepaid and Credit Cards. (2) Clubbing of this discount offer with any other offer(s) simultaneously running at the participating outlet(s) will be the sole discretion of the Merchant | Active | 15, Gulshan Avenue, Pink City, Dhaka | Dhaka |
| Annisa Gallery | Discount | Fashion & Life Style | 10% discount on cloths | (1) Offer applicable for MDB Debit, Prepaid and Credit Cards. (2) Clubbing of this discount offer with any other offer(s) simultaneously running at the participating outlet(s) will be the sole discretion of the Merchant | Active | Zamzam Tower, Level-6, Section-12-13, Uttara, Dhaka | Dhaka |
| Fashion Zone | Discount | Fashion & Life Style | Up to 15% discount on cloths | (1) Offer applicable for MDB Debit, Prepaid and Credit Cards. (2) Clubbing of this discount offer with any other offer(s) simultaneously running at the participating outlet(s) will be the sole discretion of the Merchant | Active | Shop-21, Level-1, Panthapath, Basundhara City, Dhaka | Dhaka |
| GB Fashion Nazma Collection | Discount | Fashion & Life Style | Up to 10% discount on cloths | (1) Offer applicable for MDB Debit, Prepaid and Credit Cards. (2) Clubbing of this discount offer with any other offer(s) simultaneously running at the participating outlet(s) will be the sole discretion of the Merchant | Active | S-151/152, Shimanto Squire, Dhanmondi, Dhaka | Dhaka |
| Café Zero One | Discount | Dining | 10% discount on Dining (Except drings item) | (1) Offer applicable for MDB Debit, Prepaid and Credit Cards. (2) Clubbing of this discount offer with any other offer(s) simultaneously running at the participating outlet(s) will be the sole discretion of the Merchant | Active | 18, Satmoshjid Road, Dhanmondi, Dhaka | Dhaka |
| Happy Jewellers | Discount | Fashion & Life Style | Up to 40% discount (40% discount on gold making charge) | (1) Offer applicable for MDB Debit, Prepaid and Credit Cards. (2) Clubbing of this discount offer with any other offer(s) simultaneously running at the participating outlet(s) will be the sole discretion of the Merchant | Active | 54, Ditul Mokkerom Market, 1st Floor, Dhaka-1000 | Dhaka |
| Dhaka Jewellers | Discount | Fashion & Life Style | Up to 50% discount (50% discount on gold making charge) | (1) Offer applicable for MDB Debit, Prepaid and Credit Cards. (2) Clubbing of this discount offer with any other offer(s) simultaneously running at the participating outlet(s) will be the sole discretion of the Merchant | Active | 48/A, Ditul Mokkerom Market, 1st Floor, Dhaka-1000 | Dhaka |
| Taiba Jewellers | Discount | Fashion & Life Style | Up to 60% discount (60% discount on gold making charge) | (1) Offer applicable for MDB Debit, Prepaid and Credit Cards. (2) Clubbing of this discount offer with any other offer(s) simultaneously running at the participating outlet(s) will be the sole discretion of the Merchant | Active | 49, Ditul Mokkerom Market, 1st Floor, Dhaka-1000 | Dhaka |
| Kunjo Jewellers | Discount | Fashion & Life Style | Up to 40% discount (40% discount on gold making charge) | (1) Offer applicable for MDB Debit, Prepaid and Credit Cards. (2) Clubbing of this discount offer with any other offer(s) simultaneously running at the participating outlet(s) will be the sole discretion of the Merchant | Active | 53/B, Ditul Mokkerom Market, 1st Floor, Dhaka-1000 | Dhaka |
| Arshan Closet | Discount | Fashion & Life Style | Up to 15% discount on cloths item | (1) Offer applicable for MDB Debit, Prepaid and Credit Cards. (2) Clubbing of this discount offer with any other offer(s) simultaneously running at the participating outlet(s) will be the sole discretion of the Merchant | Active | Shimanto somver, Dhanmondi, Dkaka | Dhaka |
| Shahanaj Jewellers | Discount | Fashion & Life Style | Up to 50% discount (50% discount on gold making charge) | (1) Offer applicable for MDB Debit, Prepaid and Credit Cards. (2) Clubbing of this discount offer with any other offer(s) simultaneously running at the participating outlet(s) will be the sole discretion of the Merchant | Active | 17, Ditul Mokkerom Market, 1st Floor, Dhaka-1000 | Dhaka |
| Mallick Jewellers | Discount | Fashion & Life Style | Up to 30% discount (30% discount on gold making charge) | (1) Offer applicable for MDB Debit, Prepaid and Credit Cards. (2) Clubbing of this discount offer with any other offer(s) simultaneously running at the participating outlet(s) will be the sole discretion of the Merchant | Active | 49/A, Ditul Mokkerom Market, 1st Floor, Dhaka-1000 | Dhaka |
| Al-Hamra Jewellers | Discount | Fashion & Life Style | Up to 70% discount (70% discount on gold making charge) | (1) Offer applicable for MDB Debit, Prepaid and Credit Cards. (2) Clubbing of this discount offer with any other offer(s) simultaneously running at the participating outlet(s) will be the sole discretion of the Merchant | Active | 73, Ditul Mokkerom Market, 1st Floor, Dhaka-1000 | Dhaka |
| Romana Jewellers | Discount | Fashion & Life Style | Up to 70% discount (70% discount on gold making charge) | (1) Offer applicable for MDB Debit, Prepaid and Credit Cards. (2) Clubbing of this discount offer with any other offer(s) simultaneously running at the participating outlet(s) will be the sole discretion of the Merchant | Active | 70/A, Ditul Mokkerom Market, 1st Floor, Dhaka-1000 | Dhaka |
| Lageks | Discount | Fashion & Life Style | 10% discount on garments product | (1) Offer applicable for MDB Debit, Prepaid and Credit Cards. (2) Clubbing of this discount offer with any other offer(s) simultaneously running at the participating outlet(s) will be the sole discretion of the Merchant | Active | Zmzam TowerLevel-4, Sector-13, Uttara, Dhaka | Dhaka |
| Yashoda Hospital | Discount | Health Care & Beauty | Up to 20% discount on medical service | (1) Offer applicable for MDB Debit, Prepaid and Credit Cards. (2) Clubbing of this discount offer with any other offer(s) simultaneously running at the participating outlet(s) will be the sole discretion of the Merchant | Active | Corporate office 8-2-248/1/7/64, Co-operative Housing Society, Nagarjuna Hills, Punjaguptta, Hyderabad 500082 India | India |
| Puro Foods Ltd (BBQ Chicken) | Discount | Dining | 10% discount on foods | (1) Offer applicable for MDB Debit, Prepaid and Credit Cards. (2) Clubbing of this discount offer with any other offer(s) simultaneously running at the participating outlet(s) will be the sole discretion of the Merchant | Active | House: 304 Tejgaon I/A, Dhaka, | Dhaka |
| Puro Foods Ltd (Puro Pastry & Bakery) | Discount | Dining | 10% discount on Pastry & Bakery Item | (1) Offer applicable for MDB Debit, Prepaid and Credit Cards. (2) Clubbing of this discount offer with any other offer(s) simultaneously running at the participating outlet(s) will be the sole discretion of the Merchant | Active | House: 304 Tejgaon I/A, Dhaka, | Dhaka |
| Royal Buffet Restaurant | Discount | Dining | 10% discount on foods | (1) Offer applicable for MDB Debit, Prepaid and Credit Cards. (2) Clubbing of this discount offer with any other offer(s) simultaneously running at the participating outlet(s) will be the sole discretion of the Merchant | Active | Royal Plaza (4th & 3rd floor), House-8/A, Road-4, Dhanmondi, Dhaka-1205 | Dhaka |
| Sonargaon Royal Resort | Discount | Hotel & Resorts | Up to 30% discount on room rents | (1) Offer applicable for MDB Debit, Prepaid and Credit Cards. (2) Clubbing of this discount offer with any other offer(s) simultaneously running at the participating outlet(s) will be the sole discretion of the Merchant | Active | Sonargaon Royal Resort at Khashnagar, Dighirpar, Sonargaon, Narayanganj, Bangladesh | Dhaka |
| Hotel Grand Royal | Discount | Hotel & Resorts | Up to 50% discount on room rents | (1) Offer applicable for MDB Debit, Prepaid and Credit Cards. (2) Clubbing of this discount offer with any other offer(s) simultaneously running at the participating outlet(s) will be the sole discretion of the Merchant | Active | House-8/A, Road-4, Dhanmondi, Dhaka-1205 | Dhaka |
| AMZ Hospital Limited | Discount | Health Care & Beauty | Up to 30% discount on medical services | (1) Offer applicable for MDB Debit, Prepaid and Credit Cards. (2) Clubbing of this discount offer with any other offer(s) simultaneously running at the participating outlet(s) will be the sole discretion of the Merchant | Active | House-Cha-80/3, Shadinota Sarani (Pragati Sarani), North Badda Dhaka-1212 | Dhaka |
Buy-One-Get-One Free Offer
| HOTEL/ MERCHANT | RESTAURANT NAME | DISCOUNT / OFFER DETAILS | LOCATION | VALIDITY | OFFER FOR | RESERVATION |
| --- | --- | --- | --- | --- | --- | --- |
| The Westin Dhaka | Tastes | Buy 1 Get 1 Free (Buffet Breakfast/ Brunch/ Dinner/ Lunch/ Iftar) | Main Gulshan Avenue, CWN (B) Road 45, Plot 1, Gulshan 2, Dhaka 1212 | Round the year | MDB Credit Cards | +8801730374871 |
| Doreen Hotel & Resorts | The Eatery | Buy 1 Get 1 Free (Buffet Breakfast/ Brunch/ Dinner/ Lunch/ Iftar) | House-16B, Road-35, Gulshan-2, Dhaka 1212 | Round the year | MDB Credit Cards | +8801966662152 |
| Six Seasons | Bunka / Sky Pool | Buy 1 Get 1 Free (Buffet Lunch / Dinner/ Iftar) | House-19, Road-96, Gulshan-2, Dhaka- 1212 | Round the year | MDB Credit Cards | +8801987009810 |
| Intercontinental Dhaka | Elements | Buy 1 Get 1 Free (Buffet Breakfast/ Brunch/ Dinner/ Lunch/ Iftar) | 1 Minto Road, Dhaka 1000 | Round the year | MDB Credit Cards | +880255663030 |
| Dhaka Regency | Grandiose | Buy 1 Get 1 Free (Buffet Lunch / Dinner/ Iftar) | Airport Road, Nikunja 2, Dhaka- 1229 | Round the year | MDB Credit Cards | +8801713332661 |
| Le Meridien Dhaka | Latest Recipe | Buy 1 Get 1 Free (Buffet Breakfast/ Brunch/ Dinner/ Lunch/ Iftar) | 79/A Commercial Area, Airport Road, Nikunja -2, Dhaka -1229 | Round the year | MDB Credit Cards | +8801990900900, +8801766673443 |
| Radisson Blu Dhaka Water Garden | WGB Restaurant | Buy 1 Get 1 Free (Buffet Breakfast/ Brunch/ Dinner/ Lunch) | Radisson Blu Dhaka Water Garden Complex, Airport Road, Dhaka Cantonment, Dhaka 1206 | Round the year | MDB Credit Cards | +8801730089146, +8801730089130 |
| Hotel Peninsula Chittagong | Peninsula Restaurant | Buy 1 Get 1 Free (Buffet Lunch / Dinner/ Iftar) | 486/B, CDA Avenue, O.Rnazim Road, Bulbul Center, Chattagram, 4100 | Round the year | MDB Credit Cards | +8801755554551 |
| Hotel Momo Inn | Momo Inn Restaurant | Buy 1 Get 1 Free (Buffet Lunch / Dinner/ Iftar) | Nawdapara, Rangpur Road, Bogura-5800 Bangladesh | Round the year | MDB Credit Cards | +8801730726101 |
Terms & Conditions:
Buffet includes Buffet Breakfast, Brunch, Dinner, Lunch and Iftar
One cardholder will enjoy one BOGO free offer in a month. Otherwise reimbursement cost will be charged to respective cardholder's card account
Maximum 1 buffet is free per card on a single reservation. (e.g. In a group of four people cardholder will get only one free buffet)
Clubbing of this offer with any other offer(s) simultaneously running at the participating merchant will be at the sole discretion of the Merchant / Hotel
BOGO free offer will be available on prior reservation basis
MDB MyRewardz
MDB MyRewardz is a comprehensive loyalty program designed to reward you for your spending with your MDB Credit Card. You will earn Reward Points on all of your Cash Advance, POS & Online transactions. Get lavishly rewarded for your spends on your MDB Credit Card. There is no limit on the number of reward points you can earn. Earn as many points as you can and treat yourself with exciting rewards.
You are automatically enrolled to this loyalty program & the enrolment is absolutely FREE!!!
How can you earn reward points?
Gold & Platinum Credit Cardholders will earn 1 reward point for every Tk 50/ USD 1 spent.
What can you do with your reward points?
Pay your credit card Fees & Charges
Pay Credit Card bills for MDB Credit Card
Get MDB Prepaid Card/ MDB Gift Cheque
Your desired REWARD is just a call away!
Simply call 16596 or email us at contact.centre@midlandbankbd.net and redeem your reward points!
Terms & Conditions
Reward points are also earned on transactions done with your Supplementary cards (If any) but only Primary Cardholder will be able to request for the redemption of Reward Points.
Reward Points will be earned on personal, non-commercial transactions only. The bank may nullify earned Reward Points if transactions are found to be of commercial nature.
Reward points accrue on Cash Advance, POS & Online transactions only; no point will accrue on Card Cheque, Insta-Loan transactions & Fund Transfer through IBFT.
Reward redemption vouchers will be valid for 30 days. And in case of delay customer loses the right to redeem the reward.
If any transaction is reversed, accrued points from that transaction will also be reversed.
Reward Points, if not redeemed, will get expired in 3 years (from point accumulation date).
Any unredeemed points will be nullified when a card is closed.
Any unredeemed points can be nullified or directed towards the payment of credit card bills when a card account is classified.
The bank reserves the right not to give Reward Points or nullify earned Reward Points for any particular transaction.
MDB Credit Shield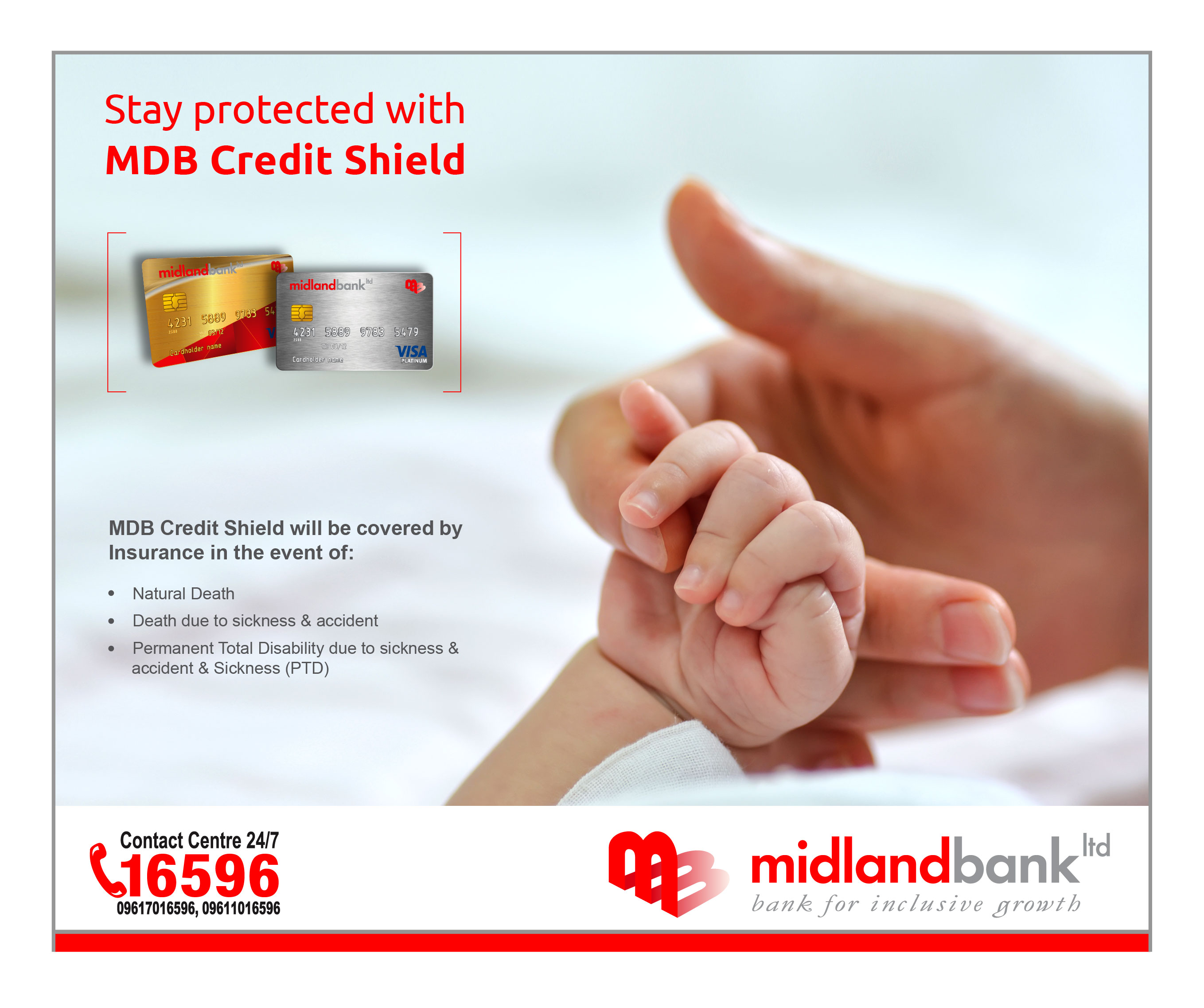 Frequently Asked Questions (FAQ)
1. What is MDB Credit Shield?
Answer:
Credit Shield is an invaluable insurance benefit, covering your Credit Card outstanding balance for a nominal monthly charge.
2. What is covered under the "Credit Shield" Insurance on MDB CREDIT SHIELD Credit Cards?
Answer:
Death (Natural/Sickness/Accident)
Permanent total Disability due to sickness
Permanent total Disability due to accident
3. What rate will be charged for Credit Shield?
Answer:
Premium 0.25% of total outstanding balance + VAT on premium 0.25%
4. Who is covered under Credit Shield?
Answer:
Only Primary Credit cardholder is covered under Credit shield program
5. Up to what age Credit Shield benefit can be availed?
Answer:
Credit Card holder should be of minimum 18 years or maximum of 64 completed years at the time of enrolment and can avail the benefit till attainment of age 65.
6. Is there a waiting period in order for the customer to be covered for Critical Illness under Credit Shield Insurance?
Answer:
Yes, there is a waiting period of 6 Months (180 Days) from the date of enrollment
7. What amount is covered under the Credit Shield Insurance scheme?
Answer:
200% of the credit card outstanding balance payable to the beneficiary of the cardholder.
8. If I have cancelled the Credit Shield Insurance, can it be re-activated?
Answer:
No, the customer cannot re-enter the program after cancellation
9. Is it mandatory to have Credit Shield Policy for Midland Bank Credit Card?
Answer:
No, it is optional. To avail, please call our Contact Center
16596
Required documents for Claim Settlement:
The following documents shall have to be submitted by the Bank on behalf of the beneficiary of its Credit Cardholder who was under Group Insurance Coverage with the Company.
Normal Death or Death due to Sickness:
Intimation of death of insured Credit Cardholder by the 2nd Party
Age Proof: NID Card/Service Card/Passport/S.S.C Certificate
Death certificate from any registered MBBS or equivalent doctor if confined/ Hospitalized
Death Certificate from City Corporation/ Union Parishad Chairman/ Ward Commissioner
Proof of Outstanding in Credit Card Account at Midland Bank
Any other documents to adjudicate the claim (if required)
Permanent Total Disability:
Intimation of PTD of insured Credit Cardholder by the 2nd Party
Age Proof: NID Card/Service Card/Passport/S.S.C Certificate
Registered MBBS Doctor's certificate/ advice along with X-ray report with film
Discharge certificate from Hospital ( if applicable)
Certificate from City Corporation/ Union Parishad Chairman/ Ward Commissioner
Proof of Outstanding in Credit Card Account at Midland Bank
In case of accident, the Company shall keep the right to ask for F.I.R from Police station or any other documents which would be necessary to adjudicate the claim
Exclusions for natural death or death due to sickness or accident
Suicide while sane or insane.
Sickness directly or indirectly attributed to HIV and/or any related illness including AIDS
Abuse of alcohol or drugs
War, or riot, or civil commotion, acts of terrorism
Illegal act / criminal activity
Flight in a non-scheduled aircraft
Participation in any sport involving a moto engine (including rallies), professional sports, boxing, scuba / skin diving, parachuting or hang-gliding, horse racing and mountain climbing
Except innocent assault or murder
Death due to Self-inflicted injury
Any claims within the waiting periods except accidental claims. All pre-existing diseases are covered after the waiting period from enrollment
Exclusions for permanent total disability (PTD) due to sickness or accident
Any claim due to Sickness occurring within the waiting period from the Date of Enrollment
Any mental condition, including but not limited to nervous breakdown, depression, anxiety or other stress related condition within the waiting period. After the waiting period such illness is covered
Backache and related conditions, unless there are definite clinical findings, such as radiological medical evidence of abnormality.
Normal pregnancy, childbirth, abortion or miscarriage, or any complications thereof.
Self-inflicted injury