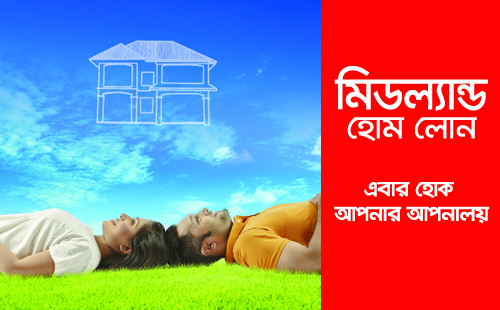 MDB Home Loan
Home is where the heart is. Experience and cherish your desired home with MDB Home Loan.
Title
Details
Feature & Purpose

Apartment/House Purchase
House Construction / Renovation / Extension / Completion
Takeover of existing home loan from any Bank / Financial Institution Loan Amount ranges from BDT 500,000 to BDT 20,000,000
Repayment tenure of 3 years to 25 years
Competitive interest rate
No Processing fee for Take over home loans from other Banks/ Financial Institutions
Early full settlement and partial settlement allowed
No hidden charges
Quick loan processing
Life Insurance facilities are available as per customer's choice

Eligibility
Experience :

Salaried Executives (Multi National Company): Minimum 1 years experience
Salaried Executives (other than Multi National Company): Minimum 2 years experience
Self Employed : (Doctors, Architects, Engineers, Chartered Accountant and Certified Consultant, IT Professionals etc.) with Minimum 2 years experience
Business Person : Minimum 2 years of involvement in business

Age :

Minimum : 21 years
Maximum : 62 years (For Salaried) and 65 years (For Others) at the end of loan tenor

Minimum Gross Monthly Income :

Govt. Employees : Minimum BDT 40,000 per Month
Salaried Executives : Minimum BDT 50,000 per Month
Professionals / Business Persons: Minimum BDT 50,000 per Month

Joint Application :

Joint application allowed

Tenure

Maximum 25 (Twenty Five) years

Benefit

No processing fee for loan takeover from other Bank & NBFI

Taxes, Duty, Surcharges
Highest Amount

Bank will finance maximum 70% of property value or BDT 2.00 crore whichever is lower as per Bangladesh Bank Guidelines (70:30 debt equity ratio)

Moratorium Period

In case of financing for construction purpose we may allow moratorium Period for 12 months (maximum) for home loan financing. During the moratorium period applicant will pay only interest amount against the draw down amount and all phase must be availed within twelve (12) months from the date of 1st disbursement or within the moratorium period (whichever is earlier).

Proposed income included for construction purpose

In case of financing for construction purpose, we may consider projected income from the proposed mortgaged property

TPA Process

Allowed Tri partite Agreement (TPA) with top listed developers

Conditional Approval

Allowed conditional approval. After getting applicants income related documents bank will provide conditional approval very shortly subject to clean Legal vetting and Valuation report.