MDB Visa Debit Card
The most convenient and safe way to pay and access ATMs nationwide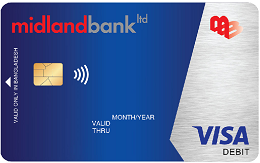 Features & Benefits:
MDB Visa Debit card is for everyday use- it's for shopping, paying utility bills, online purchasing, topping up your mobile, withdrawing cash, filling up the car and many more. Visa Debit card is accepted anywhere in Bangladesh and it allows you access to your account to withdraw cash or pay for goods and services.
Cash withdrawal facility from all ATMs in Bangladesh
Shop and dine at thousands of Visa Merchant outlets all over the country
Balance enquiry
PIN Change from MDB & Q-Cash ATM
Mini statement
Contactless facility at designated contactless payment terminals
Convenient and less risky than cash as it is always in your wallet, ready to be taken out anytime
No need to carry large amounts of cash when you have a Visa Debit card
Keep track of your expenses
Instant card blocking service by calling 24/7 MDB Contact Centre at 16596 for misplaced or stolen card
Eligibility:
If you are an individual and have a savings or current account in Midland Bank Limited, you are automatically eligible to avail MDB Visa Debit card. Just contact your nearest branch, collect an application form and submit duly filled up form. Within a short time you will be notified to pick up your card from your designated branch where you opened the account.
Enhanced Security:
PIN based protection for all your purchases at stores
Online payments made secure by Verified by Visa
EMV Chip card for added security
SMS alert for all transactions
Fees and Charges:
For any enquiry, please contact
Card Division
Zahed Plaza (10th floor),
30, Gulshan Avenue North C/A, Gulshan-2, Dhaka-1212
Mobile: +88 01977776325, Tel: +88 09666410888.
Hotline:

16596